Røde Microphones has updated the RødeCaster Pro podcasting console to v2.1 – 'a major update that unlocks complete granular control over all processing parameters', as well as improving the flexibility of podcast recording and export options and expanding multitrack capabilities. The console update is accompanied by a companion update to the RødeCaster Pro's interface and Companion App.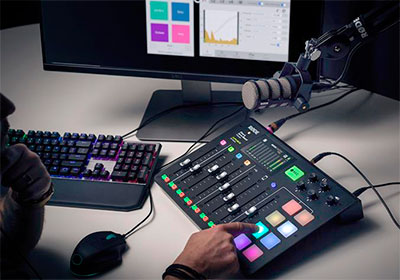 A beta version of firmware 2.1 was released in early April, which allowed RødeCaster Pro users to try the new features and provide feedback and make suggestions. Many of these have made their way onto the final version of the firmware.
Granular control over processing parameters gives users control over all parameters of the RødeCaster Pro's compressor, noise gate, de-esser, Aphex Aural Exciter and Big Bottom, and high-pass filter. For users who prefer the simplicity of the original processing controls, the advanced editor can be turned off.
As well as the individual channel compressors, the RødeCaster Pro now features a compressor on the master output, broadcast-style level metering – the option to add precise dBFS markers to the level meters on the home and record screen for greater control over recording levels – and sound pad overdubbing, where audio that has been loaded onto the sound pads can be overdubbed infinitely.
Another new feature is post-fader multitrack recording – when recording in multitrack mode, users now have the option to record post-fader, meaning all processing, effects and level settings will be recorded in the output. When transferring podcasts to a computer, users also now have the option to format their files for all major podcast platforms. WAV file exporting has also been improved.
All processing parameters now come under real-time control from within the Companion App; the Firmware Updater also now lives within the Companion App.
More: www.rode.com