Røde Microphones has announced further accessories for the RødeCaster Pro Podcast Production Studio designed to make the system more portable, more versatile and easier to use. – the DC-USB1 power cable, SC9 TRRS to TRRS cable, HJA-4 headphone adaptors and XLR-ID cable identification rings.
Featuring four high-quality XLR inputs and headphone outputs, eight sound pads for triggering sound effects and stings, smartphone connectivity, onboard audio processing and one-touch recording to microSD or computer via USB, the RødeCaster Pro is a self-contained podcasting console. With a intuitive interface and recording and editing, it is intended for use by both beginners and professionals, simplifying podcast production.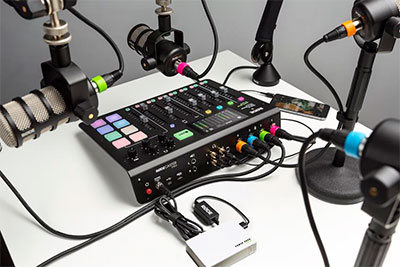 Since its release, the RødeCaster Pro's capabilities have been expanded with multiple firmware updates – which include adding multitrack recording, new professional features and audio enhancements – in response to feedback from the podcasting community.
The new DC-USB1 is a handy power adaptor for powering the RødeCaster Pro from any compatible USB output, making the console completely portable. A high-power (2.4A minimum) USB output is required for operation. Power bank is not included.
The HJA-4 is a pack of four high-quality adaptors for converting headphones with 3.5mm plugs (as used on most consumer models) for use with the RødeCaster Pro's quarter-inch headphone outputs. The XLR-ID is a set of eight colour-coded rings that can be fixed to any XLR plug, making them easier to identify and keep organised. The colours of the rings match the colours used for each of the microphone channels on the RødeCaster Pro console.
The SC9 is a high-quality 1.5m TRRS to TRRS cable for easy and reliable connection of smartphones to the RødeCaster Pro.