PreSonus has released Ecosystem 3.0 for its StudioLive Series III audio production ecosystem.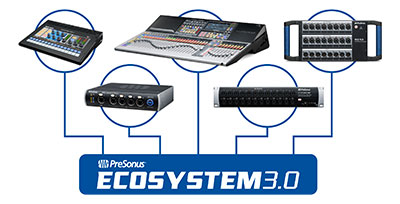 An early adopter of AVB, PreSonus' latest update builds on many of the advantages that make the standard a robust audio network option for pro audio. Among the many improvements, it strengthens device connection and stream routing.
PreSonus AVB Ecosystem networks can be configured in complex star and ring configurations that include dozens of StudioLive mixers, NSB stageboxes, SW5E switches, and EarMix 16M personal monitor mixers. With the newly added AVB Auto-connect, any PreSonus AVB Ecosystem device will reconnect its stream routing after being power cycled or temporarily disconnected from the network making it extremely reliable in complex installations or touring rigs
In addition to an update to Universal Control to support the Ecosystem 3.0 release, the following products require firmware updates for full compatibility and improved network performance – StudioLive Series III mixers (64S, 32S, 32SX, 32SC, 32, 24, 16, 32R, 24R and 16R), NSB stage boxes (NSB 16.8, NSB 8.8), EarMix 16M personal monitor mixer and SW5E AVB switch.
The PreSonus engineering team continues to work with other members of the Avnu Alliance to further the advancement of AVB implementation and interoperability. The Ecosystem 3.0 release strengthens PreSonus' commitment to providing fast, reliable audio networking for the StudioLive Series III AVB Ecosystem of products.
More: www.presonus.com