Waves Audio has released eMotion LV1 v11, an updated version of its eMotion LV1 live software mixer with new features including the new MyMon Personal Monitor Mixing App.
MyMon is a personal monitor mixing app for mobile devices that communicates remotely with eMotion LV1 and gives musicians on stage direct control of their monitor mix – they can adjust input levels; mute and pan; apply post-mix EQ; and link channels to custom single-fader groups.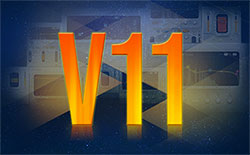 eMotion LV1 v11 also increases the aux and matrix channel-count of each of the LV1's three configurations. The 64-channel LV1 now features 16 monitor auxes; the 32-channel LV1 now features 16 monitor auxes and eight matrix mix buses; and the 16-channel LV1 now features eight matrix mix bsses.
In addition, eMotion LV1 v11 expands the mixer's I/O sharing abilities within a Waves SoundGrid network. Now, computers, DAWs and hardware I/O devices can be shared between multiple eMotion LV1 systems. Other new features in eMotion LV1 v11 include improved store and recall of sessions, scenes and snapshots; tap tempo on main toolbar; full integration with Waves' award-winning v11 plug-ins; and full compatibility with Windows 10 and macOS 10.15 Catalina.
The mixer's channel strip – its standard EQ, filters and dynamics processing – is provided by Waves eMo plug-ins: eMo D5 Dynamics, eMo F2 Filter and eMo Q4 Equalizer, designed for maximum clarity and efficiency in a live environment. The eMotion LV1 also integrates smoothly with the Dugan Speech and Dugan Automixer plug-ins (purchased separately), which are easily accessible from each LV1 channel.
You can control eMotion LV1 using industry-standard hardware controllers, multi-touch screens and diverse portable devices, from four touchscreens to a single laptop or tablet. Whichever device you are using, the LV1 has the same intuitive workflow, with a user interface built for flexibility and speed. Waves eMotion LV1 uses the Waves SoundGrid infrastructure for audio networking. It can be configured as a portable or stationary setup and can connect to any SoundGrid-compatible I/O or server. This means you can easily carry your mixer with you and run it anytime, anywhere – at home, in a hotel room, on the tour bus, or at the venue.
eMotion LV1 owners with a current Waves Update Plan can download eMotion LV1 v11 free of charge.
More: www.waves.com