Waves Audio has introduced the SoundGrid Proton Server, the latest in its line of SoundGrid servers for audio engineers to mix plug-in-rich sessions – Waves' most affordable SoundGrid server to date.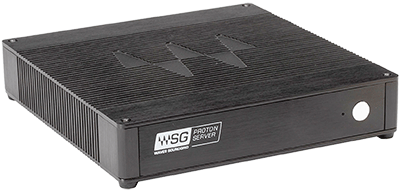 Designed for 16-channel set-ups that aspire to high sound quality, the SoundGrid Proton Server is compatible with the eMotion LV1 16-stereo-channel live mixer and is suited to adding processing power to any live environment, whether in a fixed set-up or on the road.
With an Intel Celeron processor and 4GB of RAM dedicated to plug-in processing, the eMotion LV1 16-channel mixer can be used with eMo plug-ins (F2, Q4, D5) on all channels – at just 50 per cent capacity, and at an ultra-low latency of 0.8ms at 48kHz. Combining the Proton server with Axis Proton and the eMotion LV1 16-stereo-channel mixer delivers an eMotion LV1 Proton system for live mixing with a 16-stereo-channel set-up. The half-rack 1U slick aluminium casing fits in a 1U-high rack shelf when paired with Waves' Axis Proton Waves-optimised computer.
Key features:
Ultra-low latency.
Use with any SoundGrid audio interface for plugin processing during recording or live mixing.
Durable aluminum casing (half-rack 1U).
CPU: Intel Celeron.
RAM 4GB.
Power: DC12V 3A.
1GbE Ethernet port.
HDMI port.
Three USB ports.
See also:
Waves Audio SoundGrid Axis Proton computer