Allen & Heath has announced a new 96kHz digital mixer, Avantis, the third to be based on the company's XCVI FPGA engine. Avantis puts Allen & Heath's next-generation technology in a 64-channel/42 configurable bus console, with twin full HD touchscreens, extensive I/O options and processing from the company's flagship dLive mixing system.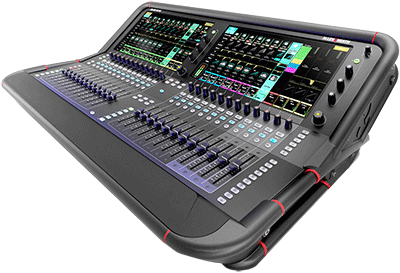 While many users will choose to pair Avantis with the 48-input/16-output GX4816 audio expander, Avantis is part of Allen & Heath's Everything I/O ecosystem, which gives Avantis flexibility by connecting to a huge range of audio expander hardware. Avantis is also compatible with Allen & Heath's range of ME Personal Mixers and IP hardware remote controllers. Encased in its alloy shell and tubular frame, the Avantis control surface is centered on the two full HD touchscreens and their corresponding rotary controls.
For local I/O, Avantis is well equipped with 12 XLR analogue inputs, 12 XLR analogue outputs, plus AES (Stereo In, two Stereo Outs). Two additional I/O Ports allow Avantis to benefit from the full range of current dLive option cards, including Dante (64x64 and 128x128), Waves, gigaACE, Madi and more, expanding the scope for system integration, FoH / monitor splits and multitrack recording.
Avantis is loaded with processing tools including compressors, EQs and Allen & Heath's RackExtra FX units (12 slots). Upgrading to dPack expands Avantis further with additional dLive processing including the Dyn8 dynamics engine (up to 16 instances), Deep compressors, and the Dual-Stage Valve preamp. dPack purchasers will automatically receive all future Deep and FX updates free of charge.
'Joining dLive and SQ, Avantis completes our trilogy of next-gen 96kHz consoles,' says Allen & Heath MD, Rob Clark. 'Avantis takes many of the features that have made SQ and dLive so popular, putting them in a standalone 64-channel mixer that offers a new UI experience, connectivity with our Everything I/O ecosystem, and the dPack option which gives you access to our advanced dLive processing options if and when you need them.
'On top of that, we've taken a new approach with the industrial design, coming up with a full metal chassis that's super-strong, lightweight and looks fantastic.'
'Having two touchscreens isn't a new concept, but we realised we could use it to unlock exciting new possibilities, which led us to develop Continuity UI,' says R&D Director, Andy Bell. 'Within seconds of getting hands-on with Avantis, engineers are going to appreciate the seamless flow between the physical controls and the on-screen software. You can work gains and pans on the rotaries, then at the touch of a soft key switch to EQ or dynamics across the whole strip. The console also provides a highly configurable FastGrab tab on the right-hand side of each screen, offering another way to quickly and easily access control of aux sends, EQ, compressor and FX on the currently selected channel or spot channel.
'Ultimately, with Continuity UI, the engineer decides how they'd like to work, not the mixer.'
'In the gap between SQ and dLive, the mixer market is littered with 48kHz DSP-based old-school consoles,' adds Head of Product, Nic Beretta. 'Avantis brings next-generation performance across the board. Customers in venues, houses of worship, touring and the rental market are going to be seriously impressed by how well this ticks the boxes. It's a really exciting mixer at a compelling price.'