Lawo has announced the Xtra Fader Version of its mc²96 Grand Production Console, providing an increased fader count in the Central Control Section of 16 instead of eight faders – a layout option that can also be retrofit into existing consoles.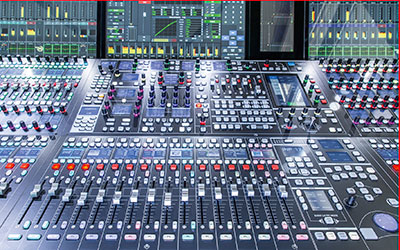 The mc²96's Xtra Fader Version is dedicated to demanding studio and OB truck applications with a need for maximum number of faders on a small footprint – the Xtra Fader Version allows to apply a 112-fader frame that fits into a mere 2350mm millimetres width for the installation in standard-sized OB vans (truck crosswise). With direct access to the double number of channels in the listening position, engineers have freedom for a more convenient and flexible workflow in fine-tuning audio production settings.
'By making the new mc²96 Xtra Fader Version available also as a retrofit, we're giving access to this increased functionality to all our mc²96 customers,' says Senior Product Manager Audio Production, Christian Struck. 'Our IP-based Grand Production Console is widely praised for its comprehensive functionality, convenient and flexible workflow, and for the most transparent high-quality sound all over the world, and the new panel adds even more value.'
Lawo's flagship audio mixing console has been designed to provide optimal performance in video production environments through native support for all relevant IP standards – SMPTE 2110, AES67, Ravenna and Dante. The Lawo mc²96 console, available in frame sizes with 24 to 200 faders – and additional faders of the mc²96 Xtra Fader Version – is capable of 44.1 - 96 kHz operation and boasts a routing capacity of up to 8,192 x 8,192 crosspoints, and a processing power of up to 1024 DSP channels. Featuring the same quality faders as Lawo's mc²90 series for extremely smooth and precise fades, the 21.5-inch full HD touch-screens as well as colour-TFTs in channel strips and touch-sensitive colour-coded encoders provide for fast overview and user-friendly operation.
In addition to standard channel labelling via channel numbers, individual text labels and static pictures or icons, the mc²96 features LiveView video thumbnails for intuitive channel identification. Touching a fader changes the LiveView thumbnail to full-screen mode, providing a more detailed view of that channel's video source, such as a camera or a replay machine.
More: www.lawo.com