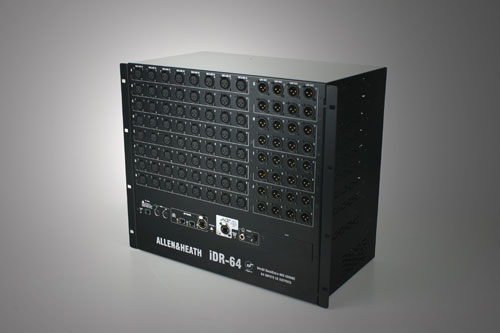 The is a larger, format fixed I/O MixRack for the iLive digital mixer family, offering high I/O capacity and a lower cost alternative to the flagship modular iDR10 MixRack.
The iDR-64 offers 64 mic/line inputs and 32 XLR outputs in a 9U-high frame, and features the iLive 64x32 RackExtra DSP mix engine, providing dynamics, EQ and delay processing for all 64 channels and 32 mixes. The RackFX DSP framework provides eight stereo processors capable of high-quality FX. Each Rack has flexible I/O routing with EQ and Dynamik FXShaper on every dedicated return.
Using standard Ethernet, the iDR-64 can be controlled with one of the iLive Control Surfaces, ranging from the rackmount iLive-R72 to the iLive-176. Allen & Heath's proprietary ACE (Audio Control Ethernet) link is provided to link the rack to a control surface, allowing cost effective long distance point-to-point control and audio communication over a single Cat5 cable up to 120m in length. iDR-64 also has a built-in network switch and Midi ports allowing remote control using laptops, touch tablets, Midi devices, and connection for Allen & Heath's PL Series of controllers. The iLive Editor software is a user-friendly Java-based program that enables both offline set up and online real time operation of the system with or without a Surface connected.
'The iDR-64 fills the gap between the iDR-48 fixed I/O MixRack and the flagship modular iDR10 MixRack, offering a high I/O capacity at an attractive price point due to the fixed I/O arrangement,' says Allen & Heath MD, Glenn Rogers. 'Not only does itprovide a great solution for larger, more demanding events, it would also be an ideal partner to a second iLive MixRack using the Dual-Rack function to expand to up to 128 channels.'
More: www.ilive-digital.com