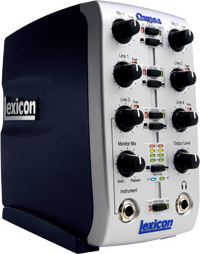 In the immediate wake of Apple's iPad2 and GarageBand for iPad, Lexicon has extended the ability of its Omega Desktop Recording Interface to stream and record digital audio to the iPad.
Lexicon's Omega allows recordings to be made with any audio recording app, including the newly released GarageBand. The high-quality audio streaming capability of Omega to take full advantage of the increasing number of recording applications available from the Apple App Store. Omega contains all the necessary components to transform an iPad into a professional 24-bit recording studio.
'We immediately recognised the power and relevance of the iPad platform for the recording musician, and were determined to integrate it with the flexibility our recording products,' says Harman Professional Signal Processing Group VP and GM, Rob Urry. 'Lexicon brings 40 years of recording experience to musicians and we are the leaders in providing high-definition audio streaming and playback capability with the iPad.'
The Lexicon Omega is designed and built around the same model as large-format recording consoles. An eight-input, four-bus, two-output USB I/O mixer with inserts, instrument input, Midi I/O and complete metering and monitoring functions gives you the freedom to record up to four tracks at once and mix without the need for additional mixing hardware.
More: www.lexiconpro.com