PreSonus Studio One users – particularly electronic musicians, audio engineers, sound designers, podcasters, voiceover artists – can take advantage of powerful audio file conversion to with the company's new Audio Batch Converter add-on.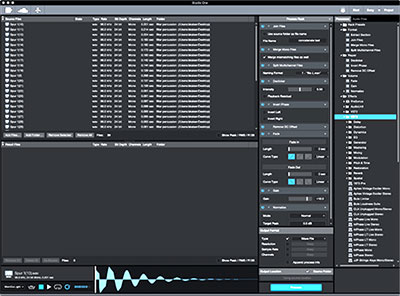 Compatible with the newly released Studio One Prime (free), Artist and Professional (v4.5 and higher), the Audio Batch Converter offers format conversion and plug-in processing via most Studio One Native Effects, AU, VST2 and VST3 plug-ins. It comes with 11 audio processes that can be applied using an intuitive drag-and-drop workflow.
The new converter is accessed from Studio One's title bar without leaving a current Song or Project. It allows files to be joined, mono files merged, multichannel files split, declicked, phase inverted, sample rates repaired, normalised, gain adjusted and fades controlled independently.
Audio Batch Converter's integrated browser allows users to create and edit processing chains via the same drag-and-drop workflow Studio One they are already accustomed to. Effects can also be tweaked during real-time playback, and an integrated Preview Player offers quickly preview and A/B comparison of unprocessed and processed signals.
The Audio Batch Converter supports a wide range of compressed and uncompressed audio file types, currently including Wave, AIFF, FLAC, Ogg Vorbis, CAF, M4A and MP3. Each type supports various resolutions.
PreSonus' Audio Batch Converter for Studio One is available immediately in the PreSonus Shop for US$49.99.
More: www.presonus.com