PreSonus promises 'the power of a large production console to small-format digital mixing' with its StudioLive 64S – offering 76 mixing channels, 43 buses and 526 simultaneous effects using the all new quad-core Flex DSP engine.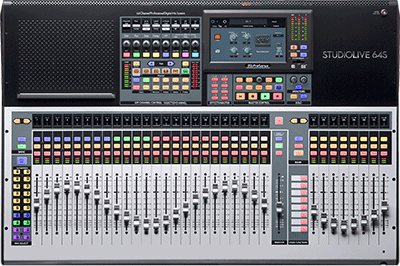 Thirty-two individually configurable FlexMixes can be used to provide a combination of aux mixes, matrix mixes, and subgroups. StudioLive 64S mixers feature an independent main mono/centre bus; each channel has a dedicated level control and a centre divergence control to control the pan placement in an LCR mix.
The StudioLive 64S is the flagship mixer of the new StudioLive Series III S line of four new mixers for live sound production, touring, high-channel-count performances, installed sound, mobile and studio applications. Powered by the PreSonus Flex DSP Engine, they feature state-space modelled Fat Channel plug-in processing on every input and bus; up to 32 FlexMix buses that can be individually configured as aux, matrix, or subgroup buses; and flexible digital patching unparalleled in this price class. All models deliver 128-channel (64x64) USB recording, plus multitrack SD recording and extensive 128-channel AVB networking.
The StudioLive 32S, 32SX and 32SC each offer 40 mixing channels, 26 buses, and 286 processors in three form factors. The StudioLive 32S provides 32 local preamps in a 33-fader frame for one-to-one mix control. The 32SX delivers the same complement of local I/O as the 32S but in a 25-fader, low-profile, space-saving frame. The 32SC squeezes its 32-channel mixing and processing power into a rack-mountable, road-ready frame with 16 local preamps and 17 faders that can be easily expanded to a full 32 channels by adding a single NSB 16.8 stagebox.
Like earlier StudioLive Series III models, the new consoles provide AVB networking to connect with any of the PreSonus AVB ecosystem of products – NSB-series stageboxes for remote analogue inputs and outputs, and up to 32 EarMix 16M personal monitor mixers. Multiple StudioLive Series III mixers can be networked to share inputs and buses. Audio routing to and from the network is easy, thanks to the flexibility of digital patching available onboard the mixers and in UC Surface.

All StudioLive Series III S models provide 128 simultaneous channels (64x64) over USB and, with the Capture 3.0, offer 64 channels of live recording and playback. An onboard 34-track SD recorder provides flexible mobile and redundant recording options. And the integration with Studio One and Capture recording applications provides an automated Virtual Soundcheck before the gig to the final mastered studio mix of the performance.
StudioLive Series III S digital mixers introduce password-protected User Profiles that make the mixers ideal solutions for installed applications with user-specific permissions. Limit access to channel processing, GEQs and preamp settings. New Project and Scene management allows multiple mix scenes to be stored with the same global routing set-up in a single project. These features will also be available for original Series III mixers in the v2.0 firmware update.
StudioLive Series III S consoles are tightly integrated with a suite of software. In addition to recording with the included Capture and Studio One Artist, wireless mixing is possible using free UC Surface touch-control software for Mac, Windows, iOS and Android. Control monitor mixes with free QMix-UC software
StudioLive Series III S digital mixers are available now at your favorite PreSonus dealers at anticipated street prices of StudioLive 64S US$3,999.95; StudioLive 32S US$2,999.95; StudioLive 32SX US$2,599.95; and StudioLive 32SC US$1,999.95.
More: www.presonus.com