Waves Audio has announced the eMotion LV1 Complete Live Mixing System, incorporating everything needed for live sound in houses of worship, clubs, touring bands and live engineers.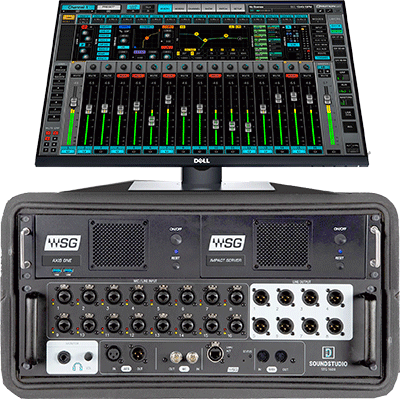 The complete live mixing system comes with the Waves eMotion LV1 16-stereo-channel live software mixer, SoundStudio STG-1608 stagebox, SoundGrid Impact Server-C, Axis One Waves-optimised computer, 24-inch Dell touchscreen, eight-port network switch and network cables.
Featuring 16 mono/stereo channels, LV1's channel strips feature a plug-in rack that can host up to eight SoundGrid-compatible plug-ins for real-time processing. It also comes pre-loaded with three plug-ins specifically designed for live sound: eMo F2 Filter, eMo D5 Dynamics, and eMo Q4 Equalizer. The included SoundStudio STG-1608 is a sturdy SoundGrid stagebox that features 16 mic/line inputs with high-end preamps, the latter of which can be remote-controlled directly from LV1's mixer channels.
All audio from the stage and through the plug-ins is processed on the included SoundGrid Impact Server-C. The processed audio can be sent to the PA system and back to the stage via the eight-line outputs at a speed of 0.8ms at 44.1kHz-96kHz.
To supercharge the LV1 mixing system, eMotion LV1 can be run on Axis One, a Waves-optimised computer made from the ground up to perform consistently and reliably. It features an Intel i5 8500 processor, 16GB of DDR4 RAM, two HDMI ports, one display port, eight USB2/3 ports and a USB-C port, all cased in a rugged 2U-high half-rack chassis. Axis One is optimised to run eMotion LV1 and other Waves software with power to spare.
Key features:
Easy portability.
Fast and easy set-up.
Quick and simple virtual soundcheck.
Smooth transition from a musical production to audiovisual conference
Compatible with the TRACT System Calibration plug-in.
Scalability.
More: www.waves.com