Lawo has announced a new option for the third-generation mc²56 audio production console – a dual-fader operating surface that increases fader count while keeping console size small.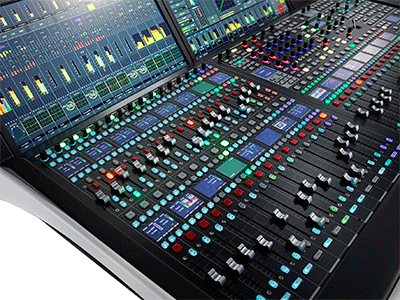 With this option, mc²56 can host up to 144 faders within the footprint of a much smaller console. The dual fader option also incorporates Lawo's LiveView thumbnail previews of associated video streams directly in the fader strips, enhancing user accuracy.
The third-generation generation mc²56 is optimised for complex IP-video production environment, featuring native support for SMPTE 2110, AES67/Ravenna, Dante and Madi audio support. It uses the SMPTE 2022-7 standard for Seamless Protecting Switching (SPS), delivering dual-redundant IP-network links to its Nova73 routing engine.
Additionally, the console features Lawo's IP-Share Network Gain Compensation, which prevents unexpected gain changes during simultaneous use of up to eight networked consoles. Each of the console's fader bays can either be equipped with the new dual-fader module or the standard fader module with an extended free control section giving direct access to as many as four global or individual parameter assignments on each channel strip. The mc²56's color-coded Button-Glow controls, touch-sensitive encoders and color TFT displays provide clear color-coding of channel strips for enhanced visibility and fast access in low light.
Built-in loudness metering is standard, with full loudness control adhering to ITU 1770 (EBU/R128 or ATSC/A85) specifications. Peaks and loudness can be monitored together, or separately.
The mc256 intended for broadcast applications, with multi-user operation, mix assist (AutoMix, upmix, downmix and optional Lawo Kick), Audio-Follow-Video functionality, integrated 3D/immersive mixing tools and parallel compression. For recording applications, it provides dynamic time-code automation, Lawo-grade mic preamps and processing, DAW remote control and a customizable signal chain with four independent dynamic modules.
Features tailored to the performing arts include Selective Recall, Oversnaps (relative trim-sets), theater automation cue list including multiple triggers (MIDI, GPIO, LTC), Waves SoundGrid and Neumann DMI-8 digital microphone integration, and mirror-console operation.
Available in frames from 16 to 144 faders, mc²56 supports a massive 8,192 x 8,192 crosspoints, with 888 DSP channels, 144 summing buses and 128 Aux buses at 44.1-96kHz operation. With a 64-fader surface suited to most OB vehicle dimensions, a 16-fader stand-alone extender may be added to an mc²56 for subsequent expansion. Comprehensive local I/O includes 16 Lawo-grade Mic/Line inputs, 16 Line outputs, eight AES3 inputs and outputs, eight GPIO, and a local Madi port (SFP).
More: www.lawo.com