Non-Lethal Applications has announced Video Slave 4 software for Mac, offering new features, improvements and bug fixes. Video Slave 4 and ADR Master both offer solid playback of movies in sync to Midi Time Code. The most significant change – requiring surgery at the heart of the application – operation is moved from playlist-based to timeline-based, which allows for editing with a high degree of flexibility.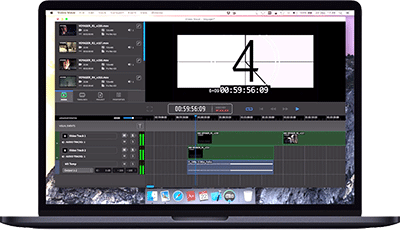 ADR Master is an ADR cueing and recording solution, which features Video Slave 4 Pro and adds tools for cueing and recording ADR. ADR Master comes in two versions: ADR Master Editor and ADR Master Studio.
ADR Master Editor includes all the features of Video Slave 4. Additionally, cues from a number of supported file formats can be imported directly from a DAW and exported or print or sent to Pro Tools as region groups.
ADR Master Studio includes all Video Slave 4 and ADR Master Editor features plus the tools needed to record dialogue in Pro Tools. It adds recording features like track naming and a sophisticated track mute/input/record matrix to define what is heard at all times. In combination with support for two Blackmagic or AJA devices with configurable output per device. ADR Master Studio is aimed at all ADR recording studios.
Video Slave 4 and ADR Master's synchronised playback works with all major DAWs including Pro Tools, Logic Pro X, Nuendo, Cubase and Studio One or any other device that can generate time code as a source. Video Slave 4 and ADR Master's sync engine provides stunningly fast locking times and tight sync guaranteed: in many cases it's better than using the video engine built into the DAW.
Version independent features:
· Video Slave/ADR Master has been rewritten to allow future Windows releases.
· Video Slave/ADR Master now use PACE (machine or iLok 2/3).
· Moved from playlist-based to timeline-based approach.
· Central project Media Bin to keep track of the files.
· Multiple timelines per project.
· Multiple video and audio tracks per timeline.
· Improved Blackmagic and AJA performance.