Audient has extended the use of its Dual Layer technology to the flagship ASP8024 mixing console, enabling the desk to combine analogue mixing and DAW control.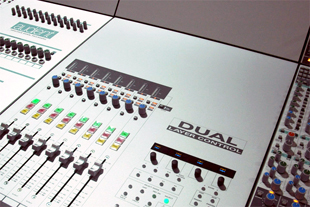 Using the new Dual Layer Control (DLC) module, the large format ASP8024 provides control of a computer session plus eight channels of analogue moving fader automation. The DLC module connects directly to the computer via an Ethernet connection, supporting control of Pro Tools, Logic, Cubase and Nuendo. A push of the DAW button enables the user to toggle easily between the control of the computer session and the analogue automation layer.
'Everyone knows the benefits of recording and mixing on an analogue console,' says Audient Sales & Marketing Director, Luke Baldry. 'Our design team wanted to extend these benefits to include control of the computer session as well, adding huge value to the ASP8024. By combining the best of the analogue and digital worlds a user can enjoy the enhanced workflow of the analogue console and access the processing power of the computer.'
The module has eight analogue audio channels enabling the automation of external line input sources or subgroup paths. Each channel has a source and destination switch allowing any combination of external I/O and subgroup paths to be selected. Below these are pan controls and mix buttons, allowing channels to be routed directly to the mix and positioned in the stereo field. When the eight sources are switched to external input, eight extra channels can be routed to the ASP8024 mix bus, and the 24-channel console becomes a 24+8 fader console, giving a total of 64 available analogue inputs.
Full details of the DLC module for ASP8024 can be found on Audient's recently upgraded website. Visitors can also sign up to the newsletter via the homepage and receive monthly updates on Audient's activities.
More: www.audient.com