Claiming a 'major first' for itself, Allen & Heath has announced a range of Deep processing plug-ins available as optional add-ons for its SQ Series of mixing desks.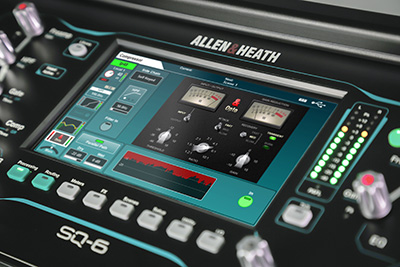 The new options allow SQ users to choose from a suite of plug-ins ported directly from Allen & Heath's flagship dLive mixing system, including premium compressors inspired by sought-after hardware units and a collection of powerful graphic EQs.
Thanks to SQ's 96kHz XCVI core, based on latest generation FPGA technology, a preamp and compressor plug-in can be used on each of the 48 input channels, while a GEQ and compressor can be applied to each of the 16 mixes. Unlike third-party plug-in solutions that require additional hardware and add latency and complexity, Deep plug-ins are built in to the console architecture and add no additional latency to the system, ensuring phase coherency across channels and mixes.
'One of the key reasons for dLive's success has always been the quality of its onboard processing and now we're bringing that direct to SQ,' says Allen & Heath's Head of Product, Nic Beretta. 'These new additions confirm SQ as the most powerful console in its class, and certainly one of the most customisable. As an SQ user, you can pick the combination of plug-ins that you want and really hone the desk to your applications. Whether you need a vintage compressor to bring a studio quality sound to a live vocal, or a precision GEQ to tune an audio system, you can now bring the power of dLive's Deep processing to your SQ.'
A Tube Stage Preamp plug-in (worth US$149) is free to all SQ users, and additional plug-ins start at US$59.
More: www.allen-heath.com