Allen & Heath has unveiled a suite of features enabling its SQ mixers to be used as compact monitor consoles.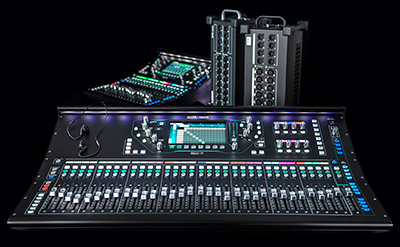 SQ firmware v1.3 adds a Listen bus, enabling the engineer to patch PAFL to an IEM system, stereo close-field monitors or a mono listen wedge, with the option to control the Listen level with the master fader. Engineers can enjoy easy communication between FOH and Monitors, thanks to the addition of an External Input to PAFL.
Version 1.3 firmware dovetails with the new SLink card, opening up new possibilities for FOH/monitor splits and remote I/O, or combinations of either of these with a ME personal monitoring system. Digital splits are further facilitated by new Tie Lines, connecting input and output sockets without running through SQ's processing.
'Space for monitor desks is often super-tight, so we're seeing a lot of SQs in monitor world, where their big functionality and modest footprint have won them many friends,' says SQ Product Manager, Keith Johnson. 'With the generous feedback and support of monitor engineers from the SQ user community, we have ticked off a wish list of new and enhanced features that make SQ the ultimate compact monitor mixer.'
SQ v1.3 firmware also adds user permissions, enhancements to the user interface, plus FX control, Midi messages and instant value feedback to the soft rotary controls on SQ-6 and SQ-7. The companion v1.3 SQ MixPad app also adds new features, including FX and Deep unit control, a patching matrix, plus integration with the signal generator and user permissions.
More: www.allen-heath.com