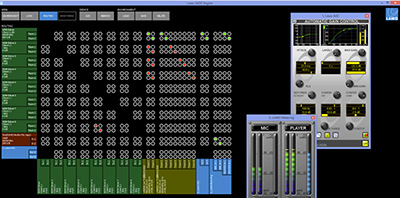 In a major upgrade to v4.0, Lawo's Rǝlay virtual radio software suite has received new features including compliance with the SMPTE 2022-7 standard, sometimes referred to as Seamless Protection Switching or 'hitless merge'.
ST2022-7 is an AoIP standard for simultaneous transmission of dual, identical audio streams via independent network paths. Products with this capability allow instant, undetectable switching to a backup network link should the primary be interrupted.
'This standard has been welcome news to radio broadcasters,' says Lawo Radio Marketing Specialist, Clark Novak. 'It's the missing ingredient that allows us to build IP networks that are even more reliable than their baseband predecessors. It's no wonder clients are insisting on this technology in their IP-Audio projects.'
Rǝlay v4.0 also includes a number of enhancements designed to make the premium Rǝlay VRX8 Virtual Radio Mixer even more intuitive and flexible. New capabilities include: multiple independent headphone controls for multi-mic talk shows; preview of external audio sources from AES67/Ravenna network prior to fader assignment; selectable audio processing with user-definable presets on PGM and REC buses; support for GPIO control of VRX8 functions via open-source Ember+ protocol; and enhanced facility integration with remote switching of output streams now possible via Lawo VSM and Matrix Server software, as well as Ember+.
Rǝlay users can download the v4.0 software directly from the Lawo Downloadcenter.
More: www.lawo.com