Avid has announced a new control surface, processing engine and I/O rack option for its Venue S6L unified live sound platform. The Avid Venue S6L-24C control surface, Avid Venue E6L-112 engine and Stage 32 I/O rack are the first releases out of six new components, providing greater configuration flexibility to meet production, space and budget requirements.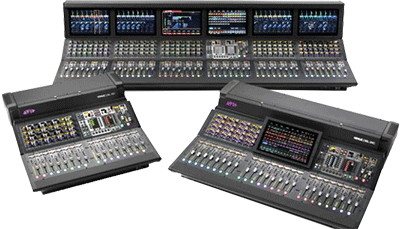 The modular Venue S6L offers full software, hardware and show file compatibility, enabling engineers to scale systems up or down to meet changing requirements for control, processing and I/O. Because the platform features the same software and workflows across every model, engineers have an identical user experience regardless of system configuration.
New system components include the Venue S6L-24C control surface, a compact and affordable variant of the S6L-24D control surface featuring 24 faders, 32 assignable knobs and an integrated central touchscreen for festivals, corporate events, and live sound installations.
The Venue E6L-112 is the optimal central processing component for mid-level systems, featuring 112 input processing channels, 48 buses, 100 plug-in slots, and support for up to two HDX cards. The E6L-112 connects to all S6L control surfaces, allowing users to select their desired processing capabilities without compromising on the level of control.
The Stage 32 brings premium-level sound quality to mid-level S6L systems, increases flexibility in distributing I/O across the performance space, and enables engineers to expand local and stage I/O. Featuring four card slots and using the same premium option cards as the Stage 64 I/O rack, Stage 32's modular design allows for maximum user customisation – up to 32 inputs or outputs, in any order.
'We are excited to expand the Avid Venue S6L unified live sound platform with the availability of these three new components and give engineers more options than ever before to configure the perfect S6L system for their clients' needs,' says Avid Live System Product Management Director, Al McKinna. 'With its proven Venue workflows, affordability, and seamless connectivity to a variety of processing and I/O options, the S6L-24C is the natural replacement for our popular Profile system, while the E6L-112 and Stage 32 help us to bring S6L's premium-level performance and sound quality to new markets.'
More: www.avid.com