PreSonus has announced 'a major update' to its music production software for Mac and Windows with the release of Studio One v4.1. The 1 update includes both Studio One 4 Artist and Studio One 4 Professional and is free to registered users.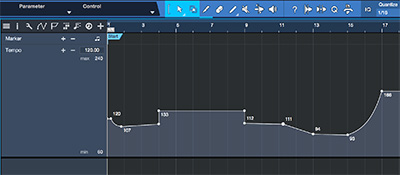 Studio One Professional's unique Pipeline XT plug-in allows hardware processors to be inserted into a Studio One session with automatic latency compensation. Pipeline XT has received a complete user interface makeover, and received several new features and improvements – latency can now be measured and compensated automatically with a single click and manual adjustments then made, the maximum delay has been increased from 5,000 samples to 32,000 samples, and the stereo Pipeline XT plug-in now supports mono sends without losing a second hardware output. External effects processor snapshots can be dragged into the centre display to capture hardware settings for later manual recall. A new note pad allows text notes to be added to presets to document specific set-up instructions and parameter settings for your hardware processor. Everything can be saved into presets.
Tempo track editing can useh Studio One's automation tools for ramps, curves and smoother adjustments. Switch between the default time-linear timebase and a new beat-linear timebase so that the grid no longer jumps under the mouse pointer. Narrow the Tempo Track display range to a musically meaningful range for improved tempo editing and visibility.
With v4.1's new AAF (Advanced Authoring Format) export options, compatibility with other DAWs has been vastly improved to allow embedding of WAV or AIFF audio files instead of referencing them; splitting of stereo tracks (important for exporting to Pro Tools); and creation of copies of audio files in WAV or AIFF format, with a choice of resolution and sample rate. File sizes can be trimmed by eliminating unused regions while the Legacy mode exports to an application that only imports AAF 1.0.
Fully remote-controllable from any Midi controller, Note Repeat now has its own section in the Record Panel where it can be activated/deactivated, a repeat rate selected, and Note Erase activated/deactivated. Studio One 4.1 also adds a System DPI Scaling option for third-party plug-ins on Windows 10 so that they appear at the normal size expected by the user on high-DPI 4K and 5K screens.
More: www.presonus.com