Solid State Logic has released the S300-32, a 32-fader compact broadcast console for its System T broadcast audio production environment, alongside additions to its Network I/O transport, routing,and control devices range.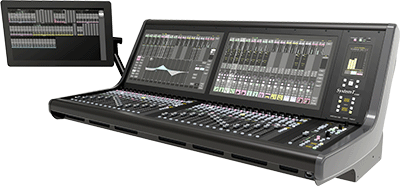 The S300 compact broadcast console is a fixed layout control surface in 16+1 and now 32+1 fader versions that can be combined with any System T network objects (control, Network I/O, and processing engines), as part of a larger installation, or in stand-alone configurations for smaller broadcast facilities or OB. System T S300 includes fully integrated, arbitrated audio and control resource sharing for SSL's Network I/O range across SSL's Tempest platform-based consoles: S500, S300, TCR and SSL Live (L500 Plus, L300 and L200).
Complete showfile compatibility between all System T consoles and controllers means production can easily move between control rooms within a facility, or an S300 can easily be used as a backup surface to a larger S500. Where processing engines are of different sizes SSL's compatibility mode allows the pre-selection of channel, buses and effects resources that will be inactive on the smaller processing engine. Settings from the larger device are never lost and resources can be reassigned at any point during the show, even with audio passing.
Additions to SSL's range of System T and Network I/O transport, routing and control devices include the TCM1 and Network I/O: GPIO 32 units for straightforward LTC, Midi and GPIO connectivity – exploiting System T's Event Manager software – for broadcast music production and postproduction environments. The unit features standard LTC (XLR) and Midi (DIN) connections, as well as two additional USB ports and two 25-way GPIO ports (12 GPI and 12 GPO) - all connected to System T via USB.
The GPIO 32 provides a comprehensive solution to GPIO over Dante with 32 GPI and 32 GPO lines and redundant network connectivity via primary and secondary Ethernet connections on the front panel.
More: www.solidstatelogic.com