Poland's recording technologies developer Zylia and US company Infineon have paired Infineon's 69dB SNR digital MEMS microphone and Zylia ZM-1 microphone array to offer what they claim is 'a new approach to music recording'.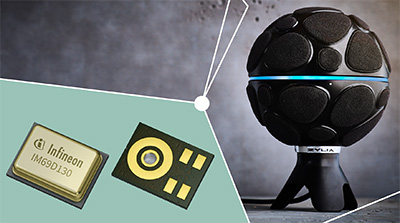 Terming the system 'the world's first portable recording studio', the 19-capsule mic array and 24-bit recording allows audio capture with a single microphone. Equipped with Xensiv silicon microphones, the microphone array delivers high-fidelity and far-field audio recording.
'We are committed to developing technologies and transforming them into products capable of improving the lives of musicians and audio creatives,' says Zylia co-founder and CEO, Tomasz Żernicki. 'Infineon is a partner we can trust to deliver the innovative, solutions that help power our development of such products.'
Advanced digital sound-processing algorithms and microphone array technology make the Zylia ZM-1 a sophisticated recording solution in a lightweight enclosure. The Xensiv silicone microphones feature low self-noise, wide dynamic range, low distortion and a high acoustic overload point. In addition, the Zylia Studio dedicated application for the ZM-1 enables separation of instruments and vocal tracks from the recorded sound mix.
'Our MEMS technology addresses the needs of the market and makes future use cases like Zylia's possible,' says Infineon Head of Partnership Management of the Power Management & Multimarket Division, Oliver Henning.
As a third-order Ambisonics audio recorder, the ZM-1 is also suitably robust for 360° and virtual reality (VR) audio production. Zylia supports these workflows with its new Zylia Studio Pro and Zylia Ambisonics Converter software. They offer sound engineers and VR enthusiasts more control over the recording process and greater postprocessing capabilities.