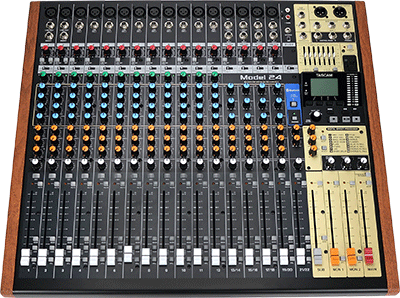 Tascam's has released the Model 24 digital multitrack recorder, offering 24 tracks of 48kHz, 24-bit audio capture (22 channels and a stereo main mix) and 22 playback tracks via either USB 2.0 or to an onboard SD Card recorder. With colour-coded knobs, faux-wood sides, and a retro design, the Model 24 is reminiscent of vintage Tascam products but is based on the company's digital Portastudio technology with LCD screen and digital recording and Bluetooth input features.
The Model 24's SD Card recorder offers quick, easy one-touch recording and includes transport controls, auto and manual punch in/out, and overdub capability. Mixdown employs built-in 22-channel mixer using 100mm faders, as do the two monitor returns, subgroup bus, and stereo main bus also.
The Model 24 offers 12 mono channels, each with XLR mic and quarter-inch line inputs; quarter-inch Inputs 1 and 2 can be switched between line and instrument level, enabling plugging in a guitar or bass, and feature a quarter-inch TRS insert point. There are four stereo channels with mono XLR mic and left and right quarter-inch line inputs. All 16 microphone inputs sport a preamp gain control and an overload (clip) indicator for the channel's mic preamp. Each of the first 20 channels includes mute and PFL solo.
An additional stereo channel (21/22) is equipped with unbalanced RCA, unbalanced stereo mini-jack, and wireless Bluetooth connectivity and offers Mute and Pairing buttons. This enables streaming audio from a laptop or mobile device. Stereo channel 21/22 has also been optimized to feed the Monitor 1 and Monitor 2 buses via rotary auxiliary send controls.
A Routing Mode selector enables each channel to be independently set to accept live input, the return from the USB bus, or the return from the SD Card recorder. This enables you to overdub in the studio and to fly in backing tracks for live performance. Multi-segment LED meters monitor the stereo main bus output levels. Outputs include stereo XLR and quarter-inch main outputs, two quarter-inch monitor sends, an effects send, stereo control room outputs, and a stereo quarter-inch headphone monitor output.
Each of the 12 mono channels include a simple one-knob compressor, a low-cut filter, and three-band semi-parametric EQ with sweepable midrange. The compressor and low cut filter are pre-Routing Mode selector so they can be applied to any recording track. The stereo channels include a low-cut filter and three-band fixed EQ. A stereo seven-band graphic EQ with easy-control toggle buttons and instant bypass can be applied to the main mix or monitor outputs, enabling you to shape your mixes and prevent monitor feedback. An onboard stereo multi-effects processor lets you apply 16 preset effects, including reverb, delay, chorus and flanging.
More: https://tascam.com