Launch at the 2011 Pro Light & Sound show as the DM1600 – the CDC Four is Cadac's first 'budget' digital console.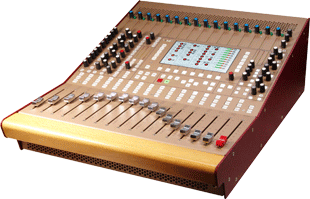 The CDC Four is an all-new development based on a proprietary DSP mix platform and signals Cadac's continued interest in new market sectors. The desk is designed primarily as a live mixing console, but an optional Firewire interface provides extensive recording capabilities, and 16-channel 19-inch rackmount expander modules provide for up to a 48 channel mix system. Console features include 16 motorised faders, high-resolution TFT colour display and scene recall of all functions.
Sound quality is refelected by the desk's use of specially developed ultra-low distortion EQ filters and analogue sounding compressors, 96kHz/24-bit Delta-Sigma AD/DA converters, and four fourth-generation 32/40-bit floating-point SHARC processors. Its wide dynamic range, low noise mic preamps feature premium input ICs with outstanding CMRR and it is capable of the theoretical maximum Equivalent Input Noise.
The Central Assignment Module (CAM) controls all input signals, groups, VCA groups, effects and auxiliary sends. Each function has a discrete control with no 'doubling up' or menu scrolling, enabling operation of the console to be as fast as an analogue desk. Another feature is the Stereo Master Output Module, where resides EQ and dynamics controls assigned only to output duties, so always available to the operator. The central 7-inch hi-res colour TFT display shows detail views of all parameters along with scene numbers, onboard effects editing and Midi status. All rotary encoders can be interrogated by pushing the control with the value, mode or function immediately displayed. Complex bus routing, auxiliary pre/post assignment, detailed dynamics settings are also shown on this display, leaving more front panel space for quick access to real-time functions.
See also:
Cadac CDC Eight
More: www.cadac-sound.com