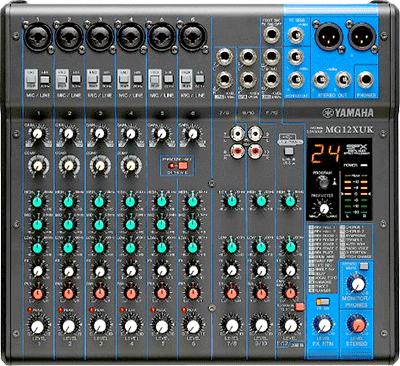 Yamaha has added the MG10XUF and MG12XUK consoles to its MG Series of mixers for small-to-medium scale event and live performance.
The new models add choice to the 10-channel and 12-channel categories within the third-generation MG Series line-up. Where the linear faders of the MG10XUF offers fine level control and direct visual feedback, the MG12XUK employs rotary controls, making the console more compact overall. Other features are the same as current third-generation MG Series XU models.
All models feature Yamaha discrete class-A D-Pre microphone preamplifiers, which use inverted Darlington circuitry to deliver sonic quality with ample power at low impedance. An upgraded one-knob compressor makes it possible to add optimised compression to a wide variety of input sources via a single control. Yamaha's SPX effects are ubiquitous in sound reinforcement and recording – 24 updated SPX effects are included in the latest MG models.
The new models also feature a USB 2.0 audio interface capable of 192kHz, 24-bit for playback of digital content from a PC and/or recording of the mixer's output to DAW software, such as the included Steinberg Cubase AI. USB Audio Class 2.0 is also supported, allowing operation with USB Audio Class 2.0 compliant tablets and other devices, without the need to install driver software. Both the new models are compatible with the Apple Camera Connection Kit or Lighting to USB Camera Adapter for recording and playback of digital audio to and from an iPad or iPhone.
All models are designed with emphasis on durability, incorporating practical features that ensure reliable operation in a wide range of challenging conditions. A powder-coated steel chassis provides improved structural strength, while the placement of the rotary controls above the surface of the chassis protects internal components by absorbing impact or pressure applied to the control knobs.
'The third generation of our MG mixer line-up was released in 2014 with an extensive choice of models,' says Yoshi Tsugawa, General Manager of Yamaha's PA division. 'The MG line-up rapidly earned an enviable reputation with users in a wide range of applications throughout the world. These new models expand the line-up even further, providing additional choices that will ideally match the individual needs of more users.'
More: www.yamahaproaudio.com