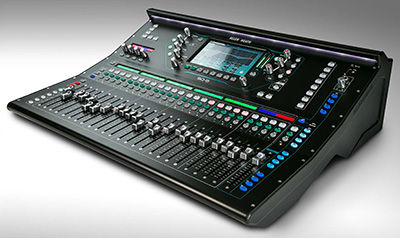 Employing company's the 96kHz XCVI FPGA engine, Allen & Heath's new SQ Series Digital Mixers extend the high-resolution audio performance of the dLive Digital Mixing System to a compact, cost-effective, multi-application platform that's both easy-to-use and highly customisable.
Two models offer a choice of size and control configuration. The rack-mountable SQ-5 has 16 onboard preamps, 17 faders and eight softkeys while the SQ-6 provides 24 preamps, 25 faders, four assignable rotary controls and 16 softkeys. Both support up to 56 input channels via remote expanders and both feature a networking slot for optional Dante, Waves and other cards. An ecosystem of apps, remote expanders, networking cards and personal mixers multiplies SQ expansion and integration possibilities. The new SLink intelligent port allows connection to Allen & Heath's 96kHz and 48kHz expanders and can link to another SQ mixer, a Qu Series mixer or a dLive system.
Live sound engineers can customise an SQ mixer's workflow using a capacitive touchscreen, illuminated rotary controls, custom naming on fader strips and assignable softkeys. Houses of worship can use scenes and layers to configure the mixer for worship, broadcast and special events while simplifying set-up for volunteers. Rental and production companies will find SQ mixers well suited to music festivals and touring artists and can use the integrated auto-mixer for corporate events and conferences.
A built-in SQ-Drive can be used to capture high-resolution stereo and multitrack audio to a USB drive. In the studio, an SQ mixer can become a plug-and-play, Core Audio or ASIO compliant, 32x32 96kHz audio interface, with Midi and DAW control capabilities. Allen & Heath's optional boutique plug-ins complement an SQ mixer's onboard EQ, compression and effects, while the mixer's Deep processing architecture maintains <0.7ms latency.
More: www.allen-heath.com