Following its Sound it! 8 Pro two-track audio editing software for Mac and Windows, Internet Co has released Sound it! 8 Basic – versatile and feature-rich audio recording, editing, processing, and mastering software with many of the same core features found in the Pro version.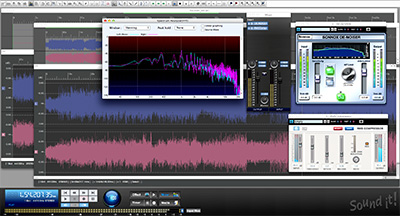 Recording includes support for up to 192kHz, 24-bit PCM files, with a maximum file size of 4GB for WAV and AIFF files (up to 20GB in the company's proprietary SIW/SIA format). The software offers timed recording with selectable preroll, insert recording between markers, and overwrite recording. A media browser allows auditioning of sound files and addition to a song via drag-and-drop. A performance monitor indicates CPU load and hard disk access time, and a memory monitor verifies how many files are stored and how much memory is needed.
Sound it! 8 Basic's editing features include cut, copy, paste, trim, and merge; crossfades with selectable time and custom crossfade curves; normalize, fade, reverse phase, insert silence, and swap LR tracks; and an undo history. Place and easily move markers, complete with comments, to quickly move between locations in a song or to select a precise range for playback – including variable speed, reverse, scrub, and looped playback.
The software's mixer includes input and output faders, a monitor send, panning, and two slots for simultaneous effects plug-in instantiations. Internet Co bundles 25 of its VST2 effects plug-ins, including EQs, dynamics processors, reverbs and specialised effects, plus Sonnox' De-noiser, De-clicker and De-buzzer. The software also supports third-party VST2, VST3 and (Mac version) AU plug-ins.
A spectrum analyser (FFT) displays the frequency spectrum at the current cursor point during recording and playback, including peak hold, linear or logarithmic graphing and variable magnification. Batch processing supports gain changing, normalising, fade-in/out and file format conversion to all audio files in a specified folder. Although Sound it! 8 Basic is not a Midi sequencer, it can import Format 0 and Format 1 Standard Midi Files and render them as audio.
The selection of output file formats includes AIFF, WAV, Ogg Vorbis, MP3, PCM Raw, AAC, CAF (Mac), FLAC, Apple Lossless, and more. You can also burn CD-Rs directly from Sound it! 8 Basic. Sound it! 8 Basic is class compliant and is compatible with audio interfaces that support Core Audio (Mac) or ASIO (Windows).
Sound it! 8 Basic is available immediately for Mac and Windows at an introductory price of US$51.50 until 4 February 2018, and US$69 thereafter.