Allen & Heath has released v1.6 firmware (Fistral) for its flagship dLive mixing system, adding Automatic Mic Mixer (AMM) features, Multi-Surface capability, support for a range of new installation hardware, and new Deep processing models.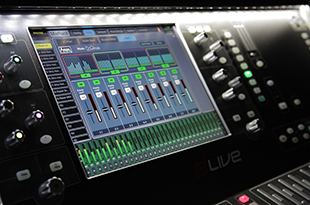 dLive's AMM can handle up to 64 microphones, with the facility to assign mics to four AMM configurations when running multiple conference rooms or panel discussions. The system offers two alternative AMM modes – classic gain sharing and a Number of Open Mics (NOM) algorithm.
Multi-Surface capability with gain tracking allows up to four independent dLive Surfaces to control a single MixRack, for installed and touring systems, including FOH/monitor splits, sidecar mixing and Surface redundancy. Version 1.6 also adds support for the recently launched range of dLive hardware for installed sound, including the ultra-compact DM0 MixRack, GPIO interface, IP1 wallplate controller and new DX expanders, hubs and modules for flexible I/O distribution. The new firmware also enables Internet access to dLive systems for remote control and diagnostics.
Allen & Heath's Deep suite of plug-ins has been expanded with a Tube Stage preamp offering different valve topologies on one dial, and a new 'Mighty' compressor emulation, recreating a legendary aggressive compressor.
'V1.6 Fistral focuses on installed sound by enabling solutions for countless applications, from distributed audio in corporate environments to invaluable tools for managing conferences and panel talks,' says Allen & Heath Product Manager, Ben Morgan. 'At the same time, we've packed in some really exciting new processing models and a number of other enhancements that the dLive community has been asking for. This huge firmware upgrade represents a US$1,495 value, but all these new tools are free for our loyal dLive customers.'
More: www.allen-heath.com