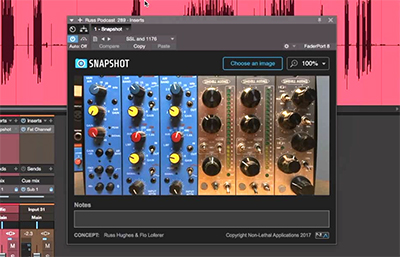 Non-Lethal Applications Snapshot is a free plug-in that allows a picture to be taken of anything being used in a recording session and stored in the tracks of the host DAW.
The inspiration of Russ Hughes – founder of the Expert websites and MD of Sociatech Ltd – Snapshot was developed by by Non-Lethal Applications owner, Flo Loferer. The idea behind Snapshot is ingenious but straightforward – take a picture of the outboard audio hardware being used in a recording session, and use Snapshot to store it in the DAW.
Key features:
Store images of outboard gear in any DAW.
Resizable GUI (100% or 200%).
Add text notes.
Adds no load to DAW session.
Load images from local disks or Dropbox.
Supports AAX, AU or VST plug-in formats.
'I was sat in a pub having lunch with some of the PreSonus team and asked why no one had done it,' says Hughes. 'I couldn't get it out of my head so I called Flo and asked if he could make it, he did. I'm amazed by the response.'
'A few hours after the release, blogs all around the globe reported about Snapshot,' Loferer reports. 'The reception in the community was way beyond what we expected it to be. It almost looks like people were waiting for this exact plug-in to hit the market.'