Osaka-based Internet Co Ltd has released Sound it! 8 Pro, two-track audio editing software for Mac and Windows.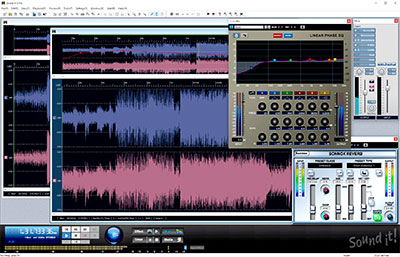 The audio recording, editing, processing and mastering software features stereo and mono recording at high sample and bit rates, support for a wide variety of file formats, batch processing, and a wealth of signal-processing plug-ins.
Recording supports up to 768kHz, 32-bit PCM files. With native Direct Stream Digital (DSD) recording and playback up to 11.28/12.28MHz (DSD256), Sound it! 8 Pro is suitable for mastering for SACD. It has a maximum file size of 100GB, for up to 165 hours of 44.1kHz, 16-bit recording. The software offers timed recording with selectable preroll, insert recording between markers, and overwrite recording. A media browser makes it easy to audition sound files and add them to a song via drag-and-drop. A performance monitor indicates CPU load and hard disk access time, and a memory monitor verifies how many files are stored and how much memory is needed.
Sound it! 8 Pro's editing features include cut, copy, paste, trim and merge; crossfades with selectable time and custom crossfade curves; normalise, fade, reverse phase, insert silence, and swap LR tracks; and an undo history. Automation can be in real time, for volume and pan, and tracks can be frozen to apply effects and automation. Selections can be played in several ways, including variable speed, reverse, scrub, and looped playback.
The software's mixer includes input and output faders, a monitor send, panning, and slots for up to eight simultaneous effects plug-in instantiations. Internet Co bundles 49 of its VST2 effects plug-ins, including a variety of EQs, dynamics processors, reverbs, and specialised effects, plus the Sonnox De-noiser, De-clicker, De-buzzer, EQ, reverb and limiter. The software also supports third-party VST2, VST3 and (Mac version) AU plug-ins.
A spectrum analyser (FFT) displays the frequency spectrum at the current cursor point during recording and playback, including peak hold, linear or logarithmic graphing, and variable magnification. Batch processing supports gain change, normalise, fade-in/out and file format conversion to all audio files in a specified folder. Although Sound it! 8 Pro is not a Midi sequencer, it can import Format 0 and Format 1 Standard Midi files and render them as audio.
The selection of output file formats includes AIFF, WAV, Ogg Vorbis, MP3, PCM Raw, AAC, FLAC, Apple Lossless, DSD, and more. You can also create DDP files for commercial CD and DVD replication and can burn CD-Rs directly from Sound it! 8 Pro. Sound it! 8 Pro is class compliant and is compatible with audio interfaces that support Core Audio (Mac) or ASIO (Windows).