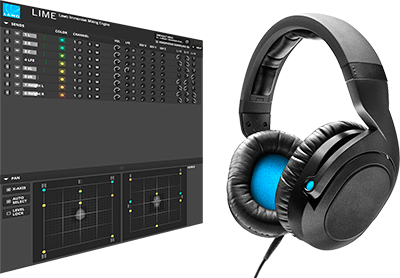 Lawo has released the Lawo Immersive Mixing Engine (Lime) for mixing and monitoring 3D immersive productions on its mc² series of audio consoles.
Developed in cooperation with New Audio Technology, developer of immersive audio solutions for industrial, professional and end-user applications, Lawo Immersive Mixing Engine provides integrated control with mc² series consoles and is capable of producing all relevant 3D/Immersive audio mixes used by formats like Dolby Atmos (7.1.2 & 5.1.4 bed), MPEG-H, Auro-3D, DTS:X, NHK 22.2, IMax 6.0 and 12.0, Sennheiser Ambeo 3D Audio for loudspeaker systems.
Lime is also ready for MPEG-H's TV Audio System, included in ATSC 3.0, designed for personal audio and broadcast applications, and includes a headphone monitoring solution for 3D and surround productions, featuring New Audio Technology's binaural speaker virtualisation Headphone Surround 3D. Music and film productions like Kraftwerk 3D, Expendables I-III, Frankenstein and Mr & Mrs Smith have already used this feature. Lime's monitoring capabilities open up new horizons for monitoring and mixing Surround/3D productions in environments that don't allow for large-scale monitoring solutions.
More: www.lawo.com