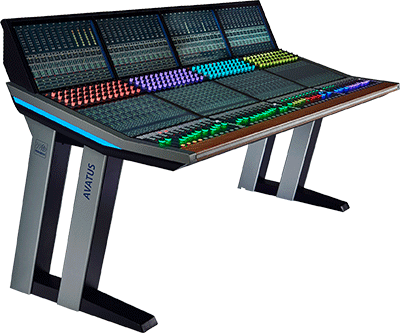 Stage Tec has announced the Avatus IP, bringing a number of innovations to the company's mixing console line and design philosopgy – Avatus offers IP-based connection to audio processing, with the Avatus 21 equipped with 21-inch multi-touchscreens for display and control functions. Making its user-friendly operation a key philosophy, the new console adopts workflow-orientated operation, displaying only relevant, context-related functions on the touchscreens.
'We have developed our Avatus mixing console concept to meet our customers' requirements for IP-based technology, open to standard protocols,' says Stage Tec MD, Dr Helmut Jahne. 'In line with their wishes, Avatus is extremely flexible. Customisation of the user interface and its features has been greatly simplified, enabling Avatus to be adapted individually to each customer's requirements in the broadcast, theatre and live entertainment fields.'
Avatus' IP-based connection aim to open new possibilities for broadcast infrastructures – where modules were previously arranged relatively rigidly, Avatus makes each module is a network node. Each component recognises its position in the mixing console and is configured and supplied with parameters accordingly. The modules can be removed from the surface, freely configured and installed anywhere within the network at any location. This creates a distributed system, which enables remote productions.
The Avatus control surface consists of just three different panels – there is here will no longer a centre section, enabling multiple users to operate a console from different locations.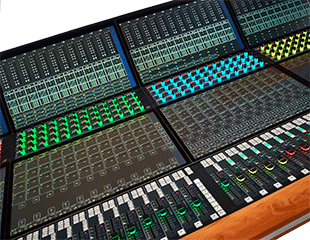 The decentralised operating principle is supported by multi-touchscreens, each allowing access to all audio processing parameters and central functions. A new UI/UX design has been developed for the multi-touchscreens, which ensures convenient user operation. The web-based Remote UI allows for display and operation of parameters via a web browser, as is familiar from Stage Tec's On Air Flex.
A further innovation is the colour coding of functional units to enable a fast and intuitive way of working. The colour coding, which is used in each rotary encoder by means of LEDs, indicates the current function of the rotary encoder. The faders are also colour coded and give a quick overview of large projects.
Avatus provides more than 800 input channels and 128 summing buses. The channel format width ranges from mono to 7.1. Features such as the de-esser, implemented as an audio channel module, loudness metering and the Stage Tec automixer are integrated into the console. Avatus varies physically between 12 and 96 control strips. Like all Stage Tec consoles Avatus is integrated into the Nexus audio network and offers all interfaces which are supported by Nexus. Thus, Avatus provides the same excellent audio quality as the other Stage Tec mixing consoles.
Avatus uses standardised technologies and protocols. This increases controllability by and of external devices and their integration. Connectivity to and from other systems will be further enhanced by implementing the AES70 standard.
Avatus is prently in pre-production, with first full production expected to begin in 2018.
'There is a period of upheaval in the industry', Jahne concludes. 'Just as in the transition from analogue to digital technology when the basic concepts of mixing consoles and control systems were changed completely, we now see this through IP networking and the development towards remote productions. The near future will be exciting.'
More: www.stagetec.com