Extending the third generation of the StudioLive Series III line, PreSonus has released the StudioLive 24 digital console/recorders.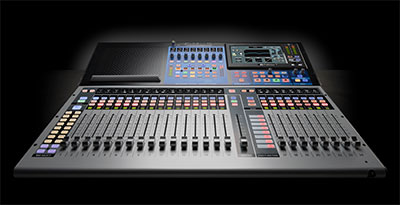 StudioLive Series III mixers now support complete multitrack recording without the use of a computer using PreSonus Capture multitrack recording software with virtual soundcheck, enabling recording of up to 34 tracks to the onboard SD recorder. Capture sessions can then be opened in Studio One (for Mac and Windows, included), including fader levels and Fat Channel settings for mixing.
The consoles feature vintage-style EQ and compression options on every channel, from classic tube limiters to passive EQs. There are also User layers for channel faders, allowing any channel, DCA master or bus fader to be placed anywhere. Scenes can also be extensively customised, including a Scene Safe feature that prevents a scene change from altering the settings on designated 'safe' channels. Similarly, Fat Channel presets have, for practical purposes, become like scenes for individual channels, not only saving input and Fat Channel settings but also aux send and bus assignments.
In addition to four fixed subgroups, StudioLive Series III consoles offer 16 FlexMixes that can be individually designated as aux, subgroup or matrix mixes, for a total of 20 mix buses, not counting the main mix, effects mixes, and solo buses. Twenty-four DCAs enable easy, flexible control of groups of channels.
An AVB Ethernet connection enables networking of compatible computers and streaming of up to 55 channels of audio to and from a Mac or Windows PC. (AVB networked solutions, including stageboxes, personal monitor mixers, and increased third-party AVB interoperability, are due later in 2017.) A separate 1Gb Ethernet port can connect to a wireless router or directly to a computer for remote control of virtually all features via a wired or wireless connection.
PreSonus StudioLive Series III mixers are integrated with a suite of software. Mix wirelessly or over a wired network from anywhere using free UC Surface touch-control software for Mac, Windows, Android and iPad. A second – or third, or even fourth – screen can be added for fast workflow. Virtual soundchecks can be automated and shows recorded with Capture for Mac and Windows – or recorded with Studio One or any software that supports ASIO or Core Audio. Musicians can control their monitor mixes onstage with free QMix-UC for iPhone, iPod touch and Android devices.
The StudioLive 32 comes with Studio One Professional, while the StudioLive 16 and StudioLive 24 come with Studio One Artist. With either version of DAW, users can remote control any StudioLive Series III mixer's recallable XMax preamps and Fat Channel processing for low-latency recording with effects. The Studio Magic Plug-in Suite for Mac and Windows is also included, which includes seven popular plug-ins in VST, AU and AAX formats.
All StudioLive Series III models are available immediately, with MAP prices of: StudioLive 32 US$2,999.95; StudioLive 24 US$2,499.95; and StudioLive 16 US$1,999.95.
More: www.presonus.com