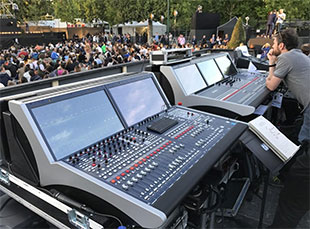 Lawo has announced updates to its mc² series of audio production consoles and R3lay Virtual Radio Mixer.
Audio Production Release 5.10.0.9 brings additional features to the mc² 36, mc² 56 MkII, mc² 66 MkII, mc² Micro Core mixing systems and their associated I/O systems, and Nova73 HD, Nova73 compact and Nova37 routers.
Version 5.10 represents a major software revision, introducing several new features and functionality, with v5.10.0.9 adding further enhancements. There is also a new version 5.8.2.12 available for the mc²90 and mc²56 MkI.
Lawo has also released R3lay v3.0.0.136 update for VRX4 Virtual Radio Mixer Software, VRX8 Virtual Radio Mixer Software, VPB Virtual Patch Bay Software and VSC Virtual Sound Card Software. Among the new features offered by the update are the ability to specify a SIP stream address for use as an audio source, as well as enhanced logging and reliability updates.
Rǝlay radio software enables broadcasters to build 'virtual broadcast studios' using desktop and laptop PCs. The Rǝlay line includes VRX8 8-fader and VRX4 4-fader Virtual Radio Mixer software, VPB Virtual Patch Bay software and VSC Virtual Sound Card software. All are AES67 compliant for use with standard AoIP networks.
The AES67 networking standard specifies SIP (Session Initiation Protocol) as its connection management for unicast streams, and Rǝlay v3.0.0.136 gives users the ability to use SIP streams as direct audio sources. Other additions to this software version include upgraded ASIO audio client handling, enhanced programme logging features, and improved integration of the open-source Ember+ protocol for control of studio peripherals.
The new software installation packages can be downloaded from the Lawo Download Center, along with detailed release notes.