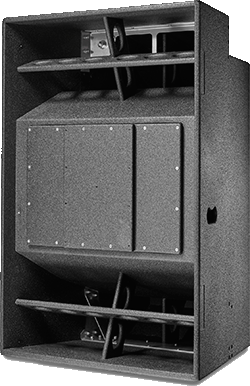 UK loudspeaker manufacturer Funktion-One has added the Evo 7TH and the Evo 7TL-215 to its Evolution Touring Series, bringing supplementary mid/high and mid/bass enclosures to the line.
Evolution 7TL-215 features two Evo 7T horn-loaded 15-inch drivers. It provides mid-bass reinforcement for flown and ground-stacked Evo configurations. Evolution 7TH is the mid-high section of the Evo 7T. It features 10-inch mid-range and a 1.4-inch compression driver for high frequencies. The Evo7TH is significantly smaller than the Evo 7T, making it extremely flexible and adaptable to a number of configurations. When used with Evo 7T, the Evo7 TH is inverted, meaning the high frequencies and mids mirror perfectly, maintaining coherency which enables mutual reinforcement for increased reach and audience capacity.
Having developed a user-friendly flying system for the series last year, these additions to the series also come with integrated flying gear, enabling rapid configuration with all the components in the Evo 7T flying clusters.
The increase in scalability that comes with the addition of the Evo 7TH and 7TL-215 mean that Evo configurations can comfortably deliver precise and even coverage to audiences of up to 10,000.
'The Evo Series was born out of the discoveries we made while developing Vero, so the methodology is the same: there needs to be a genuine way of getting more power and more throw to the top – whether it's a cluster or an array,' says Funktion-One founder, Tony Andrews. 'The Evo 7TH gives us exactly that but to maintain balance with the extended mid-highs, we needed to reinforce the mid-bass frequencies, so we developed the 7TL-215.
'We're happy with how the Evo 7T has performed in a wide variety of tour, live and festival applications. These supplementary additions to the series open up what's possible, in terms of configurations and audience sizes.'
More: www.funktion-one.com