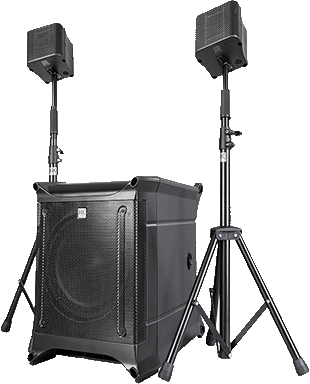 HK Audio has released the Lucas Nano 602, the latest and most affordable member of the Lucas Nano 600 series of professional, portable PA systems.
Lucas Nano 602 is a compact PA for musicians and DJs preferring to use their own external mixer. Featuring one stereo input, it delivers the system can be set up for use as a 2.1 stereo system in seconds. It can also be used with other 600 series Nano in a Twin Stereo system where more power is required.
Weighing 16.3 kg/36 lbs, Lucas Nano 602 can be carried in one hand, with the satellites mounted inside the subwoofer. And, despite its small size, it offers a Multicell Transformer, which delivers the quality performance of a large high-frequency horn at a fraction of the size, and Anti-Resonance Bracing.
'Lucas Nano 602 continues the Nano family philosophy of offering an incredible sounding and versatile PA in an ultra-compact and lightweight format,' says HK Audio Senior Product Manager, Rüdiger Forse. 'It's so simple to use – setting it up is an absolute breeze. With its amazing sonic power, crystal-clear response and up to 130dB SPL, Lucas Nano 602 is the perfect way to bring your music to life for up to 200 people.'
Key features:
• Optimised for use as a 2.1 stereo system.
• One stereo input, connects easily to any mixer.
• Active 10-inch subwoofer with Anti-Resonance Bracing.
• Two satellites each with 4.5' broadband woofer and 1-inch tweeter and Multicell Transformer technology.
• Satellites can be mounted inside the subwoofer for transport/storage.
• 130dB max SPL.
• System power: 460W.
• S-Connect Pole LN: signal-carrying distance pole for cable-free satellite connection.
• Can be used as a mono column system.
More: www.hkaudio.com