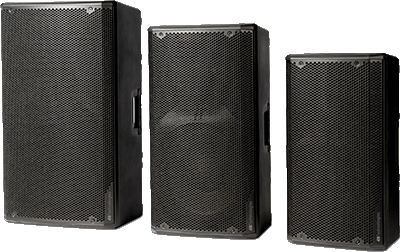 dB Technologies has introduced its Opera series of loudspeakers with 10-inch, 12-inch and 15-inch cabinets delivering 1.2kW peak power for playback and live music applications.
With new Opera Series, dB Technologies has brought DSP, advanced design features and user friendliness together in a package designed to dominate its price range. Opera's asymmetrical horn provides both asymmetrical vertical dispersions, and a double horizontal dispersion, for optimised coverage.
All three models are equipped with a class-D 600W amplifier, featuring advanced DSP with FIR filters allowing the systems to deliver a coherent audio. All models feature two input channels (allowing live performers to use the system both for vocals and instruments or vocals and playback music), two selectable output channels and eight EQ presets to adapt the systems to different environments.
The design features a full grille, and top and side handles for monitoring purposes. The cabinet comes with an integrated pole mount cup allowing stacked configurations with dB Technologies subwoofers.
Key features:
· 1.2kW peak power.
· 600W RMS power.
· Asymmetrical horn.
· Advanced DSP with FIR filters.
· Mic-Line/Mic-Instrument input channels.
· Selectable Output channel.
· Eight EQ presets.
· Stage monitor use.
More: www.dBTechnologies.com