Turbosound has announced its 1kW iX Series loudspeakers – remote controllable active two-way speakers equipped with a three-channel digital mixer and Bluetooth audio streaming.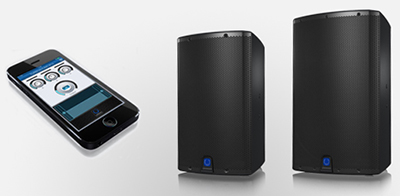 Aimed at a wide range of portable and fixed sound reinforcement applications, the iX12 features a 12-inch low-frequency driver with low-mass voice coil for transient response and a 1-inch titanium dome compression driver for extended high-frequency reproduction. The larger iX15 features 15-inch low frequency driver and also a 1-inch titanium dome compression driver.
Equipped with a built-in three-channel digital mixer and fully remote controllable via dedicated iPhone/iPad app or locally using its dedicated intuitive LCD-based user interface. They also feature wireless Bluetooth stereo audio streaming
Each speaker is powered by Klark Teknik digital signal processing presets, which have been optimised for a variety of applications and orientations, as well as for seamless integration with subwoofers and enhanced intelligibility in floor monitor applications.
Both the iX12 and iX15 are fitted with a dual angle pole mount socket for pole mounting or being raised and angled downwards to extend coverage.
'Our iX line is an excellent entry into the long-standing quality of Turbosound products, says Andy Trott, SVP of Music's Enterprise & Entertainment Division. 'Packed with industry-leading features such as Bluetooth audio connectivity, digital mixing and Klark Teknik DSP, the iX12 and iX15 are competitively powered, and more importantly, competitively priced additions to our leading product range.'