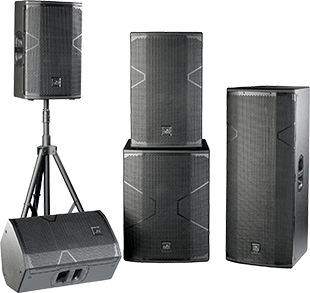 DAS Audio's new Vantec series of portable loudspeaker systems comprises four models available in both powered and passive configurations – 12-inch, 15-inch powered two-way systems, a double 15-inch powered three-way system employing a dual-band configuration and a single 18-inch powered subwoofer system.
The Vantec series uses F-series drivers, developed by DAS – the M-28 compression driver features a FEM (Finite Element Modeling) optimised motor, phase-plug and diaphragm. Attached to the DAS designed CD-horn, the assembly provides high frequency reproduction and optimum control of dispersion with 90º x 50º coverage angles.
The Vantec 12A is a 12-inch biamplified system powered by a two-channel amplifier providing 1.5kW continuous power. The cabinet offers a frequency response of 60Hz-20kHz and a maximum peak SPL of 135dB. The Vantec 15A equipped with a 15-inch F series woofer offers a 45Hz-20kHz frequency range. The Vantec 215A is equipped with twin 15F woofers for applications requiring higher SPL and more powerful bass. The three-channel amplifier offers 750W continuous per channel (total 2.25kW continuous)and operates in a dual-band configuration where each loudspeaker operates in a specific frequency range.
The Vantec series includes a single 18-inch subwoofer, the Vantec 18A, powered by a class-D amplifier with switch mode power supply, digital signal processing and a 2kW peak power rating. The amplifier has a EQ switch, which allows the user to select a Deep sub-bass response or a Loud bass response. The system includes two balanced inputs with stereo filtered output connections for satellite systems. The variable crossover ranges from 80Hz-125Hz and can be defeated to offer stereo loop-thru connections. A gain control and polarity reverse feature increase user control over the system.
Signal processing for the Vantec series is accomplished by DSP implemented Digital Finite Impulse Response (FIR) filters, providing control over critical signal parameters. Users can select configurations from a range of voicing, filter and EQ modes, and gain control by way of a rotary-knob interface and LCD screen on the rear of the cabinet. The Vantec series also offers Bluetooth technology, allowing wireless streaming of music from any Bluetooth enabled device.
Cabinet construction uses Birch plywood and ISO-flex coating. Both the 12-inch and the 15-inch two-way systems have dual angle pole mount sockets (0º, 10º) as well as angled side panels allowing the systems to double as stage monitors. Rigging points, ergonomic handles with rubber inserts and a rugged front grille provide a wide range of use in both portable applications as well as fixed installations.
More: www.dasaudio.com