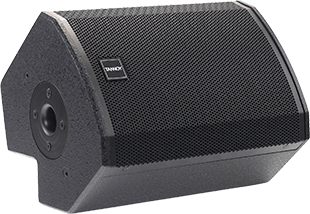 Tannoy has added the VX 8M to its VX Series range of premium grade passive sound reinforcement loudspeakers, bringing 'subtle changes across the range to provide more flexible solutions for mobile and versatile environments'.
The full-range Dual Concentric VX 8M promises a compact and powerful option for small-to-medium scale performance sound reinforcement. With a tightly controlled 90° dispersion for optimum coverage and forward gain, the VX 8M has a peak output of 119dB and a recommended amplifier power of 260W, making it a powerful and versatile performer for a wide range of applications.
A rugged highly compact birch plywood enclosure (available in textured black and white paint finishes) has been ergonomically redesigned to offer a greater degree of flexibility, while maintaining the strengths of Tannoy's VX Series range. The new cabinet design includes 40° and 60° angles for use as a dedicated floor monitor, with the 8-inch driver providing vocal monitoring clarity. The enclosure's pole mount and vertical yoke (options as standard) add a range of mounting options.
Audio connection on this highly portable loudspeaker features a recessed termination panel with two SpeakOn connectors, suited to a busy rental company or flexible venue.
A steel grille has been added to the VX 8M as well as made standard on two of the larger format boxes from the range, the VX 12 and the VX 15. new grillses make these speakers suitable for floor monitor use for medium to large-sized applications where more power and punch is required.
'The original VX 8 model is one of our most popular models in the range, but we knew we could maintain that sonic clarity and also offer an extra set of features targeted to a particular user and market segment,' says Stuart Archibald, Tannoy Product Manager. 'The new VX 8M model offers unrivalled flexibility in terms of use and mounting location. From the floor to a table top or pole mount to flying bracket, this new cabinet can be mounted in any way you choose, making it perfect for any application where crystal clear sound reinforcement is required.'
Intended for small and medium sized applications, such as corporate events, houses of worship, and portable PA applications, the VX 8M can be combined with any Tannoy VX loudspeaker or VSX Series high-performance subwoofer for low and ultra-low frequency reinforcement in a compact format.
More: www.tannoypro.com