New to the world of digitally steerable column loudspeakers, Aimline has added the first models in its ALX-Series to the recently launched ALM-Series and ALP-Series.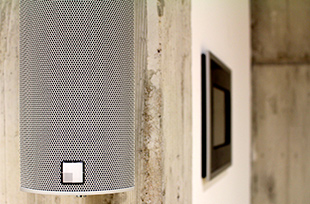 The ALX-8 can be cascaded in up to six units in horizontal and vertical directions. The system uses Dante audio networking, and offers multibeam technology for horizontal and vertical beam control, high SPL handling, analogue and digital inputs, and networking-over-IP. The model is housed in a heavy-duty aluminium enclosure.
The new loudspeaker joins the ALM-Series of active two-way columns. Each model is built as a full-range system with 3.5-inch full-range loudspeaker for low/mid and ribbon tweeters for high frequencies. Three models of different lengths (from 1100mm to 3300mm) are available, ranging from 10x 3.5-inch drivers with two ribbon HF drivers, to 24x 3.5-inch drivers with four ribbon HF drivers. A separate digital amplifier with its own digital signal processor drives each of these components.
System set-up is via a user-friendly Windows software within a network. All columns are connected via a Cat5 cable for audio and network data handling. Column Elevation, Focus Distance, Focus Elevation and Opening Angle parameters can be set to determine beam of each speaker. For audio signal processing, a noise gate, limiter, delay and 10-band parametric equaliser are available.
The Aimline ALP-Series consists of three passive column speakers, using two-way technology with the same enclosure and design as the ALM-Series. These models offer complementary systems for installations with ALM-Series loudspeakers, as well as a solution for applications where a passive column is the preferred choice. All ALP-Series loudspeakers have a narrow vertical beam for tightly focussed dispersion. The ALP-Series can be ordered for low-impedance applications as well as for 100V installations.
All ALP-Series loudspeakers can be ordered in IP68 versions for outdoor use.
More: www.aimline-audio.com