The Amadeus PMX 4 miniature 4-inch loudspeaker is designed for space-limited installation or live use.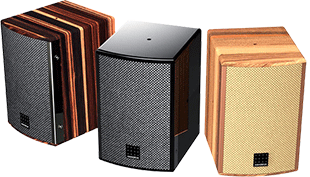 'We received several convergent requests from composers, designers and scenographers looking for a highly accurate, transparent, neutral, and above all a miniature sized sound reinforcement solution,' says Gaetan Byk, Amadeus Marketing Manager. 'We feel the new PMX 4 fills all these requirements.
'We had to create a product matching the Amadeus sonic philosophy, starting from the PMX 5 format and trying to reduce its size by 50 per cent without making any sonic compromise,' continues Amadeus lead designer, Michel Deluc. 'This loudspeaker comprises a 4-inch (100mm) neodymium woofer, with a 0,8-inch (20 mm) tweeter mounted in coaxial mode. It draws 300W peak at 8Ω impedance and produces 112dB peak SPL.'
The sides and the upper, lower and rear panels of the PMX 4 speaker are all equipped with M5-threaded inserts, compatible with U-Brackets developed by Amadeus, and speaker wall mounts, developed by Konig & Meyer, allowing the speakers to easily attach to a wall or a ceiling.
Initially available in a highly resistant black (water-soluble) paint finish, the PMX 4 is also available in several different standard colours. Every PMX 4 can also be ordered in a 'made-to-measure' finish, based on registered or non-registered colours and/or materials. It can be manufactured in standard premium-grade Baltic Birch or in special woods such as Wenge, Wacapou, Wamara, Ebony from Africa, or more timbers such as White Sycamore and Oak.
The Amadeus PMX 4 speaker is set for release in 2014, priced at €490 each (VAT excluded).
More: www.amadeusaudio.fr