Martin Audio has released an updated version of VU-Net for the MLA and MLA Compact Multi-cellular Loudspeaker Array systems – control software that enables MLA arrays to be remotely controlled from a PC or wireless tablet.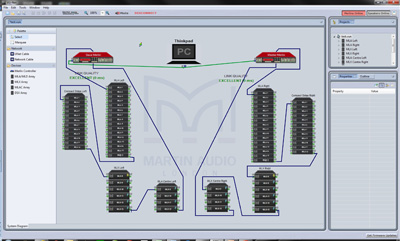 The new release (VU-Net 1.2.0) represents a major upgrade to the real-time control of MLA systems, and adds a number of features developed in conjunction with feedback from MLA partners. Added features improve connectivity and a number of key processes including the firmware updater; it also contains bug fixes and a large number of improvements.
U-Net itself is a low latency, redundant ring, fault-tolerant protocol for control and monitoring of data. Up to 254 devices can be linked and controlled by VU-Net and – for even more ambitious systems – VU-Net can control multiple U-Net rings, each comprising up to 254 devices and also monitor the input to, and output from each amplifier module and its temperature.
Andy Davies, Martin Audio Application Support (Touring), confirms that the company's support team –Davies, Martyn 'Ferrit' Rowe, Nigel Meddemmen and Jim Jorgensen, together with the R&D software team – has put a lot of time into developing this release. He also welcomes further feedback from users to drive its continuing development.
MLA users are invited to update all show computers as soon as possible with the new software.
More: www.martin-audio.com