WorxAudio Technologies has upgraded its X2-P Line Array with the adoption of its PXD8080 power amplifier.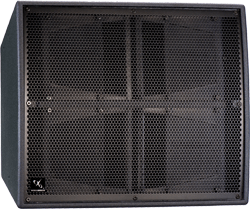 The revised the X2-P is a two-way 'all-in-one' system designed aimed at at a wide variety of sound reinforcement applications, including small- to medium-sized performance venues and clubs, houses of worship and theatres, as well as meeting and presentation facilities.
The PXD8080 amplifier provides 800W+800W, using a third-generation class-D amplifier with 88 per cent 'green' efficiency. Its DSP capabilities offer a 121dB dynamic range and 96kHz sampling rate. It can store up to 99 factory presets that can be easily accessed via the LCD on the amplifier's face or by its Cat-5 Ethernet port (RJ-45). The PMD8080 has a regulated power supply with a universal voltage range of 88V-170V.
The X2-P Line array incorporates two modules, each with a medium format, 1-inch exit compression driver coupled to a proprietary FlatWave Former (wave shaping device). The compression drivers are paired with dual 8-inch cone transducers coupled to the (AIM) Acoustic Intergrading Module that minimises comb filtering accross its from 45Hz to 20kHz (-10dB)operating.
The X2-P's throw capabilities claim a 'dramatic departure' from line array systems of this size and class. The upper module of the X2-P provides 10° vertical dispersion while the lower delivers a 25° vertical pattern. Combined, the two modules create a 30° vertical system with an unusually broad horizontal dispersion of 150°.
The loudspeaker enclosure is constructed from multi-ply Baltic Birch and is heavily braced for cabinet rigidity. Protecting the enclosure is a multi-layered, two part polyurea ProTex finish – available in black or white – designed to withstand the most demanding applications. A 14-gauge, perforated, cloth-backed, powder coated steel grill with a high transmission ratio protects the transducer complement.
The X2-P ships with custom-designed flyware – the TrueAim grid incorporates a series of holes that control the angle of the suspended enclosure. The system's Ease Focus aiming software incorporates all the various parameters – including weight, distribution, and rigging points – and provides a single-step Auto Focus process that details the optimum angle to suspend the enclosure at, which is accomplished by setting the TrueAim grid at the recommended hole.
'The upgraded X2-P is a compact, high performance loudspeaker system that makes a terrific choice for a wide range of sound reinforcement applications,' says Hugh Sarvis, WorxAudio Technologies' CEO and Director of Engineering. 'The system offers a broad coverage pattern and, with the included Ease Focus aiming software and the integrated flyware, makes installation quick and easy. With a clean, unobtrusive appearance that blends seamlessly into a broad range of environments and first-rate components that deliver outstanding audio quality, I'm confident this system – with its new and improved power amplifier – delivers the performance and value today's SR professionals are looking for.'
The WorxAudio Technologies TrueLine X2-P Install Line Array carries a MSRP of US$6,490 and is available now.
More: www.worxaudio.com