Tannoy has unveiled its VSX Series line of subwoofers at InfoComm 2012.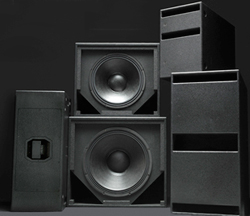 Developed to complement the recently launched VX Series and VXP Series line of full-range sound reinforcement loudspeakers, the VSX Series initially comprises five passive enclosures, with powered versions to follow.
Developed from the ground up, VSX Series is precision engineered to deliver high-impact, low and ultra-low frequency reinforcement in a compact format for installed sound or portable/live PA applications. The VSX Series is ideally placed to the extended low-end response of Tannoy's range of installation loudspeaker systems.
The new range comprises of five passive models – three of which are band-pass configuration (VSX 8.2BP, VSX 10BP and VSX 12.2BP) and two direct-radiating devices (VSX 15DR and VSX 18DR). All models feature a compact volume and footprint relative to their driver complement and performance capabilities, and are optimised for maximum efficiency.
Additionally, VSX Series marks the introduction of Tannoy's EMT (Excursion Management Technology) on the VSX 8.2BP, VSX 10BP and VSX 12.2BP, which 'optimises tonal balance and harmonic output through precisely engineered enclosure geometry and innovative transducer design; delivering well-defined low-frequency reinforcement at high sound pressure levels, with extremely low distortion and power compression, while maintaining a uniform frequency response throughout the device's dynamic range'.
All models boast a rugged and durable birch ply enclosure, with ergonomic Integrip carry handles and integrated, recessed termination panels with NL4 speakOn and barrier strip connections for ease-of-install (speakOn connectors are angled and recessed into the cabinet, allowing for flush-mounting to a wall, floor or ceiling irrespective of connection).
VSX Series subwoofers can be coupled with VX Series and VXP Series for portable PA applications thanks to an integrated pole-mount recess and the optional VTH pole mount, eliminating the need for tripods. All enclosures are available in a black or white durable paint finish, with Weather Protected (WP) optional specification available on the VSX 15DR and VSX 18DR – featuring Line-X coating, weatherised transducers, Airnet-lined grilles and stainless steel fixings and hardware.
Tannoy will be supporting the launch of the new range with the introduction of a new software tool to facilitate the design of cardioid, steered and end-fire subwoofer arrays using its range of subwoofers – including the new VSX models. This will be made available to download for free from the Tannoy website.
Key features:
Five band-pass and direct-radiating configurations to cover multitude of applications
New band-pass designs featuring EMT, for higher output, lower distortion and greater reliability
New lower profile cabinet designs, packing more performance into less space
Recessed Integrip handles for ease of handling
Recessed termination panels for flush mounting of connectors and flexible installation positioning
Multiple flying points for overhead installation applications
Recessed pole-mount locations for use in portable PA applications
Weather protected options on selected models
Custom colour finishes available for aesthetic integration
See also:
Tannoy VX Series
The VSX Series is due to ship in Q3 2012.