L-Acoustics' ARCS Wide and ARCS Focus systems are based on two constant curvature enclosures holding distinct directivity pattern and SPL capabilities. Intended for medium-throw applications in rental productions and fixed installations, the systems are aimed at applications including FOH LR, central clusters, side fill monitoring, distributed systems and complementary fill.
System components:
• ARCS Wide (H x V: 30° x 90°) element, wide coverage.
• ARCS Focus (H x V: 15° x 90°) element, focused energy. 

• SB18m low-frequency extension, operating down to 32Hz.

• LA4 or LA8 amplified controllers.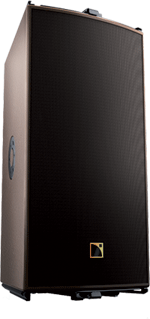 The ARCS Wide or ARCS Focus line sources claim high SPL with opimum acoustic coupling, solid LF performance and consistent tonal balance over distance. Both systems can be used as a horizontal or vertical array.
In the coupling plane, the ARCS Wide and ARCS Focus deliver sharp directivity, particularly valuable to sector audience fields while avoiding reflective surfaces. In the other plane, both systems provide a smooth 90° symmetric directivity. The ARCS Wide achievse extensive coverage with few elements, offering a compact array that preserves sightlines. The total coverage angle of an ARCS Wide line source is proportional to the number N of enclosures in the array (N x 30°), while ARCS Focus line source focuses the same acoustic energy within half of the coverage angle (N x 15°) – ARCS Focus gives narrower coverage, offering a higher SPL with extended throw.
The ARCS Wide and ARCS Focus can also be used in 'WIFO' hybrid arrays for complex audience geometries.
'Offering scalable coverage from 15° or 30° to a full 360°, ARCS Wide and ARCS Focus are plug-and-play systems, suitable for as main or fill applications,' says L-Acoustics MD, Stéphane Ecalle. 'For installations, the systems' coverage can be tailored to fit optimised installation budgets, and the dual directivity pattern can provide effective solutions for challenging room acoustics.
With tightly-packed arrays, the system tidily preserves sightlines and is architecturally friendly, offering an IP45 protection rating for outdoor installations.'
More: www.l-acoustics.com