JBL Professional's STX800 Series of portable loudspeakers is designed to 'bridge the gap between lighter-duty portable PA speakers and full-size tour sound systems'.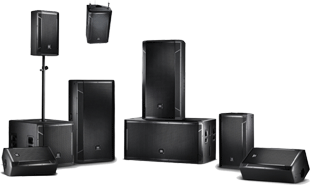 The six STX800 passive loudspeaker models combine travel-friendly construction and high power handling, as well as integration with Crown's VRack amplifier V5 level processing and HiQnet Performance Manager software.
The JBL STX800 Series models include the 12-inch, two-way STX812M; the 15-inch, two-way STX815M; the dual 15-inch, two-way STX825; the dual 15-inch, slot-loaded three-way STX835; the 18-inch STX818S subwoofer; and the dual 18-inch STX828S subwoofer. All use use proprietary JBL high-power-handling drivers that claim extremely low distortion, and waveguides for accurate pattern control.
'We know that "performance" encompasses much more than just specs,' says says Richard Ruse, Senior Director of Global Sales. 'Total Performance is a design principle that embodies every characteristic of the product – spectral balance, ergonomics, practicality, extreme power handling, versatility and appearance. All factors that make a substantial difference in the real world of professional audio.'
The loudspeakers can be used as a simple, high-density ground stack sound system by regional sound and A/V Rental companies, touring bands and professional mobile DJs. With M10 suspension points, they also offera cost-effective install speaker for nightclubs, theatres and churches and are also an affordable, extension to a full-size tour sound system as side fills and floor monitors.
The STX812M and STX815M can be used as a floor monitor, on a tripod stand or over a subwoofer. Both feature a 70° x 70° waveguide. With its wide frequency range and 90° x 50° coverage angle, the STX825 is suited to bands or DJs as a primary PA, side fill speaker on a concert stage or as an installed speaker in a dance club or performance venue.
JBL's slot-loaded STX835 is intended for full-range use in standalone applications or in high-performance environments as a ground-stack passive top box. The STX835 is designed to be placed over the STX828 subwoofer, and its horn-loaded mid and high-frequency 60° x 40° waveguides allow two STX835s to be splayed for wide-angle coverage over a large area. All STX800 loudspeakers can be operated either full-range or bi-amplified.
Though compact, the STX818S subwoofer delivers 1kW of continuous pink noise power handling and comes equipped with a top-mounted M20 pole mount. For applications requiring larger amounts of bass, the STX828S's dual 18-inch drivers handle 2kW of continuous pink noise, 4kW programme and 8kW peak.
STX800 Series loudspeakers use JBL's patented CMCD Cone Midrange Compression Driver for claimed ultra-low midrange distortion, increased sensitivity, extended bandwidth and improved phase coherence. High frequencies are handled by either a 2432H 3-inch or 2453H 4-inch titanium-diaphragm, neodymium-magnet compression driver, operating in conjunction with JBL's Progressive Transition (PT) waveguides. STX800 Series woofers feature the latest evolution of JBL's Vented Gap Cooling: Super Vented Gap Technology, which provides more efficient heat dissipation for higher power-handling capability with minimal dynamic compression.
All models (except the subwoofers) incorporate M10 suspension points. Optional wheel kits are available for the STX818S and STX828S subwoofers. STX800 Series models are made from top-quality birch/poplar plywood covered in JBL's resilient DuraFlex material, and have road-tough 14-gauge steel grilles lined with acoustically transparent cloth.
More: www.jblpro.com