Italian loudspeaker manufacturer dBTechnologies has added three subwoofers to its DVA range, as well as announcing an upgrade to its DVX series.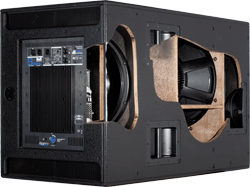 The DVA S1521N is a powered 21-inch subwoofer, housed in a bass reflex enclosure and boasts 1.5kW RMS power. The unit's single transducer is a 21-inch woofer with neodymium magnets and a 4.5-inch voice coil. The DVA S1518N is a bandpass subwoofer based on the DVA S10, but with a 50 per cent higher power output, an integrated DSP and an RDnet link. It is designed to 'deliver tight and punchy bass' using an 18-inch RCF woofer driven by a built-in 1.5kW RMS digipro G2 digital power amp. DVA S1518N modules can be stacked or flown.
Offering a cardiod dispersion, dBTechnologies DVA S2585N is a compact subsystem with enhanced low-frequency directivity. The system uses two separate chambers, one loaded with a forward-facing 18-inch woofer and the other with a rear-facing 15-inch woofer. Providing a total output of 2.5kW RMS of power, it is also easy to handle and transport.
All the new subs are driven by high-performance digipro G2 class-D digital power amps, equipped with PFC switched-mode power supplies and are fully compatible and ready for integration with DVA T12 and DVA T4 systems.
The subwoofers are due to ship in Q2 2012.
More: www.dbtechnologies.com