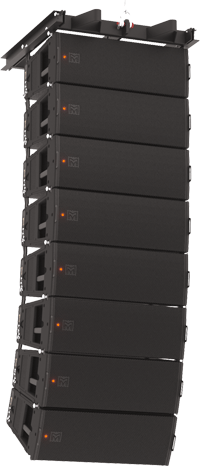 The MLA Compact line array brings Martin Audio's Multi-cellular Loudspeaker Array Technology to a wider range of touring and installed sound applications, in a smaller and lighter version – well suited to use in concert halls, ballrooms, theatres and houses of worship, as well as providing a side-hang or front-fill companion to an MLA system.
'MLA Compact is our response to the market demand for a mid-size touring system that can double as an installation system, while retaining all the breakthrough benefits of the original MLA system,' says Martin Audio Director of Sales, Simon Bull. 'MLA Compact enables a much wider segment to buy into our game-changing Multi-cellular technology.'
Using the principles that underlie the operation of the larger MLA system in a smaller package (W: 788mm x H: 280mm x D: 500mm), a 12-box array claims to be able to deliver 'full rock SPLs in a 5,000-seat venue, while a 24-box array will approach the output of many full-size systems which have less efficient acoustic elements'.
The system combines acoustic design, amplification, DSP and optimisation software – with communications and control via an audio network. MLA Compact arrays can be remotely controlled from the supplied wireless tablet running VU-Net control software. Class-D amplification, proprietary U-Net control network and DSP circuitry are integrated within each enclosure, simplifying system set-up and operation and eliminating long, heavy-gauge cable runs. Reducing cable runs to inches within the enclosure means that all the power produced by the amplifier goes directly to the speakers and is not dissipated in the cables.
'From the outset, MLA Compact has been designed with the financial and environmental aspects of running a system in mind; use of maximum-efficiency acoustic and amplifier technologies reduce both the size and weight of the system, assisting transportation as well as reducing the mains or generator power needed to run the system,' Bull says.
System Architecture: Loudspeakers
The three-way MLA Compact cabinet has a peak output capability of 135dB LF, 135dB midrange and 135dB HF, per box at 1m. MLA Compact's LF section uses two 10-inch (250mm)/2.5-inch (63mm) voice coil, neodymium drive units in a unique 'Hybrid' configuration. Each driver is slot-loaded into a truncated horn with a low flare rate, to give a high sensitivity of 103dB @ 1m/2.83V.
The cabinet has separate, mid and HF horns with horizontal constant directivity characteristics – so the horizontal off-axis response tracks the on-axis response more exactly. The mid horn uses two 5-inch (125mm)/1.5-inch (38mm) voice coil neodymium drivers to produce 109dB @ 1m/2.83V, while the 5-inch cone/0.7-inch compression driver combination replaces the large-format compression driver, offering less distortion and an extended HF response.
MLA Compact's HF section uses four 0.7-inch (19mm) exit neodymium compression drivers which feed separate horns for 100° horizontal constant directivity. In the vertical plane, MLA Compact claims significant advances over previous thinking by adopting new criteria for vertical wavefront curvature.
DSX Subwoofer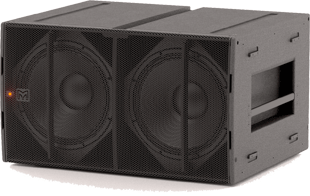 With an extremely high output level, compact size and advanced DSP-based realisation of directional arrays, the DSX is capable of 146dB peak output at 1m (half space, measured). The high output level of the powered and networked subwoofer is achieved by combining state-of-the-art LF driver technology with an onboard class-D amplifier module which can deliver 6kW peak power.
The DSX features two 18-inch (450mm)/4-inch (100m) voice coil, ferrite drivers in a reflex-loaded enclosure with four flared ports, carefully designed to improve linear airflow. Each driver is housed in its own separate chamber to move cabinet resonances out of band.
A flying version, the DSX-F Sub, can be flown alongside or at the top of MLA Compact arrays, as well as being ground-stacked. A maximum of 15 DSX-F can be suspended from the MLA flying frame and symmetrical rigging allows flown DSX-F cabinets to face backwards – enabling directional flown as well as directional ground stacked arrays to be configured.
The ground-stack version of the DSX can be upgraded to the DSX–F by the addition of an easy-to-fit accessory kit.
Control
Each MLA Compact enclosure is fitted with a five-channel amplifier module with class-D circuitry delivering a total of 2.1kW continuous and 4.2kW peak output. One channel powers both LF drivers in parallel and two channels drive each mid independently.
For the HF section, two channels drive the four HF drivers in parallel pairs, making a total of five independently powered acoustic cells per enclosure. Lightweight, switched-mode power supplies, auto-range to global mains voltages from 100-240V 50/60Hz, while Power Factor Correction smoothes out the mains current draw over the whole of the AC waveform. The amplifier section is designed to withstand rain and ambient temperatures of up to 45°C and features advanced protection ─ amplifier monitoring via U-Net includes input signal, output signal at the drive unit terminals, limiter status, heatsink temperatures and driver fault conditions.
Onboard DSP performs all crossover and EQ functions via a combination of IIR and advanced FIR filtering – fast VanishingPoint FIR filters give the freedom to physically separate the mid and HF horns – so they do not compromise each other's constant directivity dispersion pattern, yet achieve the spatial performance of a single device.
Arrays can be remotely controlled over U-Net from the supplied wireless tablet running VU-Net control software with its intuitive graphical interface. VU-Net also enables the user to switch on enclosure identification LEDs with automatic identification of neighbouring enclosures and connectivity confirmation.
MLA Compact's rigging system combines speed with precision. Up to 24 enclosures can be suspended via its two-point-lift flybar, and the same hardware can also be used for single point lifting of up to 12 cabinets, as well as ground stacking up to six high.
Key Features
° Numerically optimised, fully-integrated, compact touring sound system
° Cellular array format with built-in amplification, DSP and digital networking
° Five dedicated class-D amplifier channels per enclosure for individual powering and DSP control of individual cells
° Display2.1 intelligent software interacts with onboard DSP for array optimisation. Eliminates trial-and-error array preset library approximations
° 'Fly-by-wire' software adjusts vertical coverage electronically to cope with changing environmental conditions and last-minute changes in rigging height. 'Hard-avoid' areas, such as on-stage, ceilings and site perimeter, can be determined
° Switched-mode power supplies with Power Factor Correction and global mains
voltage operation
/135dB @ 1m from a single, compact enclosure
° Fast, integral flying system for suspension of up to 24 enclosures
° True 100° (-6dB) horizontal constant directivity, mid- and high-frequency pattern control. Consistent and usable to 130° (-10dB)
° Full bandwidth frequency response: 65Hz–18kHz ±3dB
The system will make its world trade show debut at the forthcoming Pro Light &Sound exshowpo in Frankfurt, and will start shipping in March 2012.
See also:
More: www.martin-audio.com