JBL Professional has introduced the PRX400 Series of passive portable loudspeakers.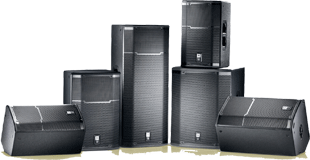 The 15-inch PRX415M, 12-inch PRX412M can be used as either mains or monitors, and when used with the 18-inch PRX418 subwoofer, provide a sat/subwoofer system capable of delivering 135dB SPL. The PRX425 dual-15-inch, two-way speaker is aimed at DJs and bands that require powerful low-frequency extension from a standalone cabinet.
'Since their introduction, our PRX600 Series portable PA loudspeakers have been tremendously popular with touring musicians, DJs and in a variety of live performance venues,' says Senior Director of Worldwide Sales, Richard Ruse. 'Our PRX400 Series models offer the same exceptional sound and rugged reliability in a passive loudspeaker format, at pricing that offers outstanding value in its category.'
PRX400 loudspeakers are designed to work with Crown Audio's XTi2 Series amplifiers, which offer preset performance tunings including crossover points for a sat/subwoofer set-up and optimised parametric filtering. PRX400 tunings will also be available in the dbx DriveRac PA+ signal processor/complete loudspeaker management system.
PRX400 Series loudspeakers use high-quality, tour-tested drivers and components for bands, DJs, nightclubs, schools, houses of worship and other professional touring and installed sound applications. They feature Neutrik Speakon combination connectors and are built from lightweight, yet extremely tough 18mm birch/poplar multi-laminate hardwood covered in JBL's resilient DuraFlex covering. All PRX400 Series models feature rugged 16-gauge steel grilles.
All full-range models incorporate 12 M-10 suspension points and hardened steel eyebolts for safe hanging in light-duty installations. Built-in dual-angle pole-mount sockets enable the PRX415M and PRX412M to be mounted either straight out or at a 10° downward angle to. With a 10° down angle, the speakers can be aimed down at the audience, keeping sonic reflections off the back wall for better clarity and more efficient coverage. In addition, all PRX400 models feature ergonomic handles made from road-tough, lightweight glass-filled nylon.
In common with all JBL Professional products, PRX400 Series loudspeakers have survived JBL's 100-hour power test, in which they are submitted to 100 hours of continuous, high-level input. The speakers also go through environmental and strength tests including harsh temperatures and humidity. All PRX400 models incorporate JBL's Sonic Guard speaker protection circuit that automatically attenuates the signal going into the high-frequency section of the speaker if too much input signal is detected, and restores normal operation when the overload condition passes.
More: www.jblpro.com